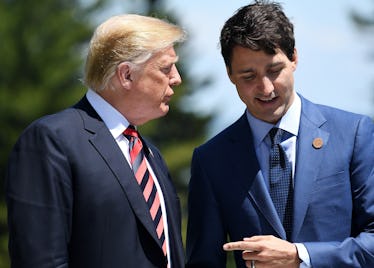 Donald Trump's Tweets About Justin Trudeau, Trade, & G7 Are Pretty Shocking
Leon Neal/Getty Images News/Getty Images
When the annual Group of Seven (G7) summit in Canada came to a close on Saturday, June 9, the U.S. president was notably absent. But his opinions about his foreign counterparts, especially the Canadian prime minister, were anything but. Over the course of the weekend, President Donald Trump's tweets about Justin Trudeau, trade, and G7 have left the U.S. in a tight — and isolated — spot on the world stage.
The seven countries in attendance — Italy, France, Canada, the UK, the U.S., Germany, and Japan — were left to meet as a group of six, as Trump made one isolationist move after another leading up to and during the summit. Trump skipped out on the entire summit early, opting to bail on the climate portion following a day of intense Twitter exchanges between him, French President Emmanuel Macron, and Prime Minister Trudeau.
In his closing remarks Saturday afternoon, Trudeau announced that all seven nations in attendance had signed on to the joint communiqué, a statement that in part expressed the need for "free, fair and mutually beneficial trade and investment." Trump, who was reportedly watching the press conference aboard Air Force One after leaving the summit, tweeted out his feelings about Trudeau and the statement in no uncertain terms.
Trump cited "Justin's false statements at his news conference" on Saturday as well as Canada's trade policy overall, as he announced that he didn't support the communiqué. His reversal sent shock waves across the EU, angering other partners in the G7.
"PM Justin Trudeau of Canada acted so meek and mild during our @G7 meetings only to give a news conference," Trump wrote in a tweet on Saturday. "Very dishonest & weak. Our Tariffs are in response to his of 270% on dairy!"
Trump's words elicited backlash from Canadians and the international community at large. Former Canadian ambassador to the U.S. Frank McKenna told The New York Times that Trump's talk "was extremely undiplomatic and antagonistic ... disrespectful and ill informed."
McKenna added: "All Canadians will support the prime minister in standing up to this bully. Friends do not treat friends with such contempt."
Trump's remarks about the communiqué came after days of less-than-positive words towards his counterparts. On June 7, leading up to the summit, he'd been vocal about them via Twitter.
In advance of the summit, French President Emmanuel Macron called out his U.S. counterpart for what have been perceived as protectionist policies. On June 7, Macron tweeted, "The American President may not mind being isolated, but neither do we mind signing a 6 country agreement if need be."
Trump backing out of national commitments is becoming less a phenomenon and more a norm. In May, he officially pulled the U.S. out of the Iran nuclear deal (the Joint Comprehensive Plan of Action, formally), upending years of hard-fought foreign policy. This came after his decision just over one year ago to remove the U.S. from the Paris climate accord.
On May 24, Trump called off the meeting planned with North Korean leader Kim Jong-un. The summit, rescheduled after the leaders reversed course on the call, is slated for Tuesday, June 12 in Singapore.
Ironically, some of the Trudeau-Trump drama may be owing to Trump's relationship with Kim. White House aides said Trump's "weak" remark was meant to set a powerful tone ahead of his impending high-stakes meeting with Kim. In fact, members of his inner circle not only backed him up, they and upped the ante, adding in criticisms of their own for Trudeau.
Speaking on Fox News Sunday, Trump's advisor Peter Navarro said, "There's a special place in hell for any foreign leader that engages in bad-faith diplomacy with President Donald J. Trump and then tries to stab him in the back on the way out the door. And that's what bad-faith Justin Trudeau did with that stunt press conference."
Macron continued to dish up the subtle shade via Twitter over the weekend after Trump's behavior at the G7. On Saturday, Macron tweeted (in translation), "On the climate, we have an ambitious position of 6, without the U.S. This is not a novelty." The remarks came just a few weeks after Macron and his wife Brigitte were guests of honor at the White House for the Trump's first state dinner on April 24.
But Trump doesn't appear to be backing down. In fact, he appears to be doubling down on his comments over the weekend, tweeting early Monday, June 11, "Sorry, we cannot let our friends, or enemies, take advantage of us on Trade anymore. We must put the American worker first!"
Clearly, the president's words haven't gone unnoticed by other world leaders. But whether his insult-laced tweets will have any tangible impact on the country's standing globally — particularly as he goes into a historic meeting with Kim — remains to be seen.