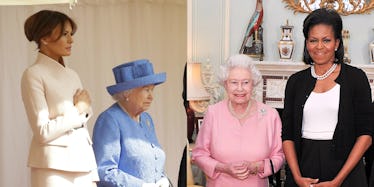 Melania Trump & Michelle Obama Were Total Opposites When They Met Queen Elizabeth
WPA Pool/Getty Images News/Getty Images / WPA Pool/Getty Images Entertainment/Getty Images
On Friday, July 13, President Donald Trump and first lady Melania met with Queen Elizabeth at Windsor Castle. The first couple was following tradition in meeting with other foreign leaders, but in many ways, it was a very different occasion from when their predecessors met with the queen. In fact, Melania Trump vs. Michelle Obama's meeting with Queen Elizabeth were extremely different from each other.
That difference has a lot to do with Michelle Obama's actions when she first met the queen all the way back in 2009. Obama had two major moments that people pounced on, causing huge stirs at the time. Trump, meanwhile, stuck to a neutral protocol, keeping things generally cool as she met with the royal.
When it comes to the big picture, the context of the two meetings could not have been more different. President Barack Obama and first lady Michelle met with the Queen just a few months after moving into the White House. The Trumps, meanwhile, waited a year and a half — even though the Queen invited them to visit early on in their turn in the White House.
That delay was largely because of planned protests and actions Britons had over President Donald Trump, who has been adversarial to Prime Minister Theresa May and London Mayor Sadiq Khan. When the visit — which was downgraded from an official "state visit" — finally happened, protesters took to the London streets. This corresponded with the two presidents' relative global approval. In 2009, Pew reported that Barack Obama had lifted the U.S. global image. With Donald Trump's presidency, Pew reported that global favorability declined.
Even so, first ladies typically have higher approval ratings than presidents, which is true for both Obama and Trump, so many eyes were on Melania as she met Queen Elizabeth on Friday, July 13. That was especially true because of the "scandals" Michelle Obama caused when she first met the Queen in 2009.
In case you don't remember what it was like back then, many people were shocked by Obama's fashion choices when she first became first lady. That's because she largely chose more down-to-earth fashion, like J. Crew, that arguably made her more relatable. While many people were happy to see that, others argued that it was a disrespect to the status of the first lady. That argument was on huge display when Obama met the Queen.
Obama caused "controversy" meeting Queen Elizabeth because she showed up in a sweater set. For the 2009 meeting, Obama wore a black and white Isabel Toledo outfit, complete with a double string of pearls. While some might see that as a simple, neutral outfit, many people freaked out, saying it was far too casual to wear to meet the queen. (Criticism over Obama's appearance as first lady in general was extremely common, likely due in broad part to racism.)
As first lady, Trump tells a completely different sartorial story. More often than not, she chooses high fashion over relatability, and that held true in her meeting with the queen. On Friday, Trump wore a pale pink skirt suit by Christian Dior paired with Christian Louboutin pumps. Yeah, it was a contrasting look to Obama, very formal and sartorial.
And then there was the other jaw-dropping moment Obama had when she met Queen Elizabeth. At one point during their meeting, Queen Elizabeth put her arm around Obama, and Obama reciprocated with her own arm. Now, under royal protocol, you're not really supposed to touch the queen — unless she initiates it, which she did with Obama. Even so, of course, people freaked out about it
Trump and Queen Elizabeth, meanwhile, kept it much more by-the-book. They shook hands respectfully to meet, and otherwise kept a reasonable distance, avoiding any extraneous touches.
As the world knows, they're two very different first ladies, and their contrasting interactions with Queen Elizabeth put their differences on broad display.