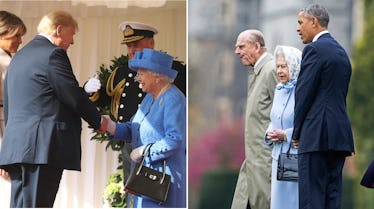 Queen Elizabeth Looked As Pleased To Meet The Trumps As She Was To Meet The Obamas
Chris Jackson/Getty Images News/Getty Images // WPA Pool/Getty Images News/Getty Images
When it comes to impressing Queen Elizabeth, it can't be an easy feat. On July 12 and 13, Donald and Melania Trump are visiting the U.K., and their lengthy agenda involves a visit to the queen herself. Donald Trump has certainly established himself as a controversial president, so I was definitely interested to see how he and the queen would get along. Now that we've got an inside peek into their meeting, these photos of Queen Elizabeth with the Trumps versus Obamas reveal so much.
The queen, in her quintessential classic demeanor, greet the president and first lady on Friday with a warm smile and handshakes. The trio then stood in a row and watched the military display take place at Windsor Castle.
It's not rare that world leaders occasionally rub elbows with one another from time to time. So, the United States president and the queen of England are certainly no different. The long-standing matriarch has certainly had her fair share of presidential visits; in fact, according to The Independent, Queen Elizabeth has met with every U.S. president since 1945, with the exception of Lyndon Johnson.
The queen met with the Trumps on July 13, but rewind to a few years ago to revisit a simpler time, when Barack Obama was president. There's no denying that the Obamas are arguably one of the most charismatic families in White House history, but the queen gave both first families a warm greeting.