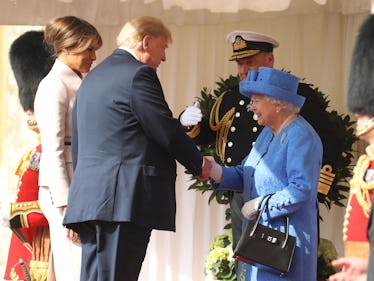 Melania Trump Went For A Respectful Look To Meet The Queen, With A Big Fashion Twist
Chris Jackson/Getty Images News/Getty Images
The First Lady has officially made her way to England for her first official meeting with Queen Elizabeth II, alongside husband, President Donald Trump. For the historic occasion, Melania Trump's outfit to meet Queen Elizabeth played by the rules — with a slight twist. This time, Melania opted for a pale beige blazer and skirt from French fashion house Christian Dior, along with a brown belt, and Christian Louboutin pumps. Her hair was styled in a simple up-do, with her side bangs sweeping her face. This simple look was a stark contrast to the colorful, striped, below-the-knee statement dress she wore earlier in the day, from British designer Victoria Beckham. Melania wore the frock as she arrived at Royal Hospital Chelsea to meet the Chelsea Pensioners as well as some local schoolchildren. Judging by the looks alone, the first lady definitely played it safe with her fashion choices for the day, which has been pretty typical of the 48-year-old when she's set to meet with international officials.
Looking more deeply into her ensemble, seeing as Melania was meeting with the Queen specifically, most would have imagined she would have opted for a British designer, rather than French. And though it's still early, no one has yet to scold the mother-of-one for her fashion hiccup.
WPA Pool/Getty Images News/Getty Images
Leon Neal/Getty Images News/Getty Images
However, former First Lady Michelle Obama got hit hard by both the media and the fashion world when she wore a casual cardigan over an Isabel Toledo dress to meet the Queen back in 2009.
"You don't...go to Buckingham Palace in a sweater," Oscar de la Renta told Woman's Wear Daily at the time. The designer continued, "American fashion right now is struggling. I think I understand what [Obama and her advisers] are doing, but I don't think that is the right message at this particular point."
de la Renta's comments aside, American companies like J. Crew certainly didn't seem to mind Obama's sartorial selections. CNN reported that once Obama was photographed wearing a J. Crew sweater, the item sold out just a few hours. But fast forward almost a decade later, and the type of controversy surrounding the first family has little to do with fashion anymore, which may be the reason why no one seems to be making a fuss about Melania's fit.
Before the Trumps even landed in Britain for their four-day visit, protests were being put together by British citizens to fight the Trump administration's controversial policies. In addition, Al Jazeera reported that a large Trump blimp, which depicts the president as an orange baby in a diaper, is set to fly over London at the time of the duo's visit. The network reported that the protesters "hope Trump sees it."
While these particular rallies seem to be more focused on her husband, Melania is no stranger to stirring up controversy during her travels. Recently, the first lady got into some hot water after she wore a $39 army green jacket from Zara with the words, "I really don't care, do u?" painted on the back as she went to go visit a children's immigration center in McAllen, Texas on June 21. The incident happened only two months post the announcement of her Be Best campaign, which aims to support children's wellbeing. Naturally, people were pissed and took to Twitter to share their grievances at the time. And their still sounding off.
Melania has yet to address her controversial choice herself, however, her husband has made it clear that it wasn't about the children, but rather the "fake news media."
To redeem herself from the fashion faux pas, Melania made another trip to the border — but this time without the jacket.
As far as this U.K. trip goes, however, after a busy day sipping tea with the Queen, on July 14, the president and first lady will be whisked away to meet with the Scottish Secretary of State David Mundell before heading back to the U.S. sometime on Sunday. We'll have to wait and see what Melania plans to wear for the rest of this trip, so don't plan on sleeping on it.