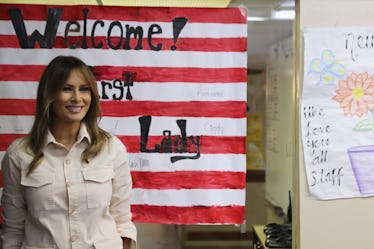 Melania Trump Is Totally Ignoring Her Jacket Controversy, Because Of Course
Chip Somodevilla/Getty Images News/Getty Images
The first lady's visit to the immigrant children's shelter in McAllen, TX might have been slightly derailed by a controversial piece of clothing, but it looks like she's not letting that ruin her trip. Melania Trump's tweet about her border visit not only features some photos, but is free of fashion faux-pas. Social justice never goes out of style.
On June 21, Melania Trump took to Twitter to share a few photos of her visit to the Texas immigrant children's shelter. First things first, I think it's very important to point out that the first lady decided to ditch the infamous "I really don't care" military jacket in favor for a more reserved outfit. The photos share a few glimpses into Trump meeting and speaking with the children while getting to know the inspiring people attempting to help these separated children. Along with the photos, Trump thanked the individuals working within these shelters and said that spending time the children was "meaningful."
She tweeted,
Today's visit to #Texas to spend time with children & thank the many hardworking individuals helping to care for them was very meaningful. Thank you to @SecAzar@HHSGOV for traveling w me today & the care you are giving these children in such a difficult time.
For those who haven't been in touch with reality today, let me give you a rundown of arguably the most controversial fashion faux-pas in recent history. On June 21, just before boarding the plane to head to Texas, photos surfaced of Trump wearing a jacket that said "I really don't care, do u?" written on the back. To no one's surprise, this horrendous outfit choice resulted in serous outrage among the public, but honestly this type of mistake can only be blamed on Trump's team. Seriously, who let her leave the house with that on?
A jacket like that certainly makes a statement, especially if you're wearing it on the way to deal with political matters. However, Trump's spokesperson, Stephanie Grisham, told CNN in a statement that there's "no meaning" behind the jacket.
"It's a jacket. There was no hidden message," Grisham told CNN. "After today's important visit to Texas, I hope the media isn't going to choose to focus on her wardrobe."
Look, I'll be the first to chastise reporters that focus only on a powerful woman's outfit, but this scenario is completely different. This isn't a conversation about an "unflattering" pantsuit or "revealing" dress; we're talking about Melania Trump wearing a jacket that literally says "I really don't care" while visiting an immigrant children's shelter. I mean, c'mon.
Then, just to add fuel to the flame, Donald Trump took to Twitter to share his thoughts on the backlash his wife was facing. Why am I not surprised.
The first lady's recent trip to the shelter is a product of the recent crisis of separating immigrant children from their families at the border. On June 20, Donald Trump signed an executive order to stop this separation from happening, but the president overlooked some serious points. The vague order doesn't address whether separated children will be reunited with their families, and doesn't promise that this family separation won't happen again.
During the signing, Trump told reporters that this order will "keep families together" while simultaneously "having strong borders." Hm, alright.
He said,
It's about keeping families together, while at the same time being sure that we have a very powerful very strong border, and border security will be equal if not greater than previously. So we're going to have strong very strong borders, but we're going to keep the families together. I didn't like the sight or the feeling of families being separated. It's a problem that's gone on for many years, as you know, through many administrations. And we're working very hard on immigration, it's just been left out in the cold. People haven't dealt with it, and we are dealing with it.
As a mother herself, hopefully Melania Trump's trip to the shelter opened her eyes to the horrible conditions these families are having to endure. Perhaps first lady will start pushing her husband in the right, just direction.