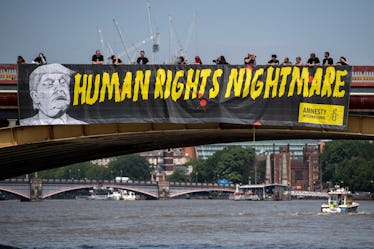 People In London Are Protesting Trump's Visit To The UK & They're Not Messing Around
Chris J Ratcliffe/Getty Images News/Getty Images
President Donald Trump is only two days into his weeklong international tour, and already, his presence abroad has proven provocative. Following his appearance at a summit this week, the president arrived in the U.K. on Thursday to an array of public demonstrations. London protests over Trump's visit sum up how the president's European tour is going so far. Elite Daily reached out to the White House for comment on the London protests but had not heard back at the time of publication.
Joined by his wife Melania, the president is in the U.K. for two days. He began his trip abroad by attending the North Atlantic Treaty Organization (NATO) summit in Brussels on Wednesday, July 11 and Thursday, July 12. In London, multiple forms of protests, including marches, rallies, and more digital forms of demonstration, were occurring on Thursday and were expected to continue through the weekend.
International sentiment in the U.K. was expected to be so strong that the U.S. Embassy issued a warning to Americans in the country to "keep a low profile" in light of the protests against the president.
"Several of the events are expected to attract large crowds and there will be road closures in connection with those events," wrote the embassy in the issuance, issued July 10. "Exercise caution if unexpectedly in the vicinity of large gatherings that may become violent."
The U.K.'s Metropolitan Police (MPS) also issued updates and warnings in light of the events taking place throughout Central London. "There are a number of marches and rallies taking place in Central London tomorrow," read a tweet from the MPS events handle on Thursday. "There will be traffic disruption throughout the day ... Please allow additional time for any journeys." The MPS also released a statement of conditions it would be enforcing for additional protests slated for Saturday in the U.K.
Despite the warning, some Brits seemed to roll out the welcome mat for amy Americans inclined to join in on the antri-Trump protests. "Dear Americans in Oxfordshire, please do join us as we peacefully protest outside Blenheim Palace this Thursday," tweeted Rachel Clarke, author and National Health Services doctor. "We'd absolutely love to see you there."
At a news conference Thursday in Brussels, prior to leaving NATO, Trump said of his upcoming visit to the UK: "I think they like me a lot in the U.K."
One protester in London said that that was far from true, from his personal observation. "He says we like him here but we don't," Roger McKay told CNN. "I haven't met anyone who likes him here." He added: "Trump is an opportunistic man who blames the world's problem on immigrants and vulnerable people. I would like to see that change, that's why am here. I grew up thinking the world gets better but this man embodies the opposite."
"This protest is not anti-American – far from it," said London Mayor Sadiq Khan in a statement per CNN. "Most of those marching on Friday will love the United States, just as I do. But having a special relationship means that we expect the highest standards from each other, and it also means speaking out when we think the values we hold dear are under threat."
Among the events are a rally organized by Amnesty International, a human rights advocacy group. The organization also unveiled a banner on Vauxhall Bridge in London, featuring a cartoon image of Trump with the words "Human rights nightmare" in large lettering.
In a statement about the banner and rally on the Amnesty's U.K. website, the group cites Trump's "harmful policies on refugees, women's rights, and climate change. "Since coming to office Trump has ordered children to be torn apart from their parents at the U.S. border," the statement reads. "He feeds off division, bigotry and fear. So we need to put on our biggest show of solidarity to stand up against his hate."
Music also played a role in the London protests. Per CNN, there was a social media campaign underway to push the song "American Idiot" by Green Day to the top of U.K. charts in time for Trump's arrival.
As the Wall Street Journal's Rebecca Ballhaus notes, according to pool reports, "We Can Work It Out" by The Beatles was playing outside of Winfield House, where the Trumps are staying while on the visit to the U.K.
But perhaps most notable — or at least, difficult to not notice — will be the inflatable blimp caricature depicting Trump as a baby wearing a diaper.
The balloon, at some 19 feet in height, will hover 98 feet above the city on Friday. According to Al Jazeera, the fund to pay for the blimp raised nearly $24,000 and was approved by London officials to be flown above Parliament Square gardens.
In the meantime, steel fences have been erected to surround Winfield House, where the Trumps will stay for the duration of their visit, and the president is largely avoiding the area of central London in light of the protests.