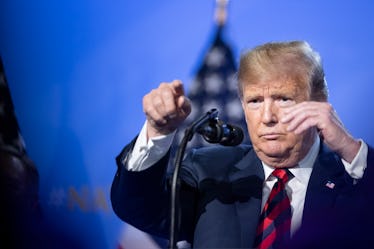 Trump Said Some Very Trump-Like Things During The NATO Summit
Jasper Juinen/Getty Images News/Getty Images
President Donald Trump was in Brussels, Belgium this week for the North Atlantic Treaty Organization (NATO). The international summit was only two days, but in the short time there, the president didn't struggle to make a lasting impression on the world stage. And for those familiar with his style, Trump's NATO quotes have been very on-brand for the president.
The conference took place at the NATO headquarters in Brussels, from Wednesday, July 11 and Thursday, July 12. The summit of the 29 member countries, comprised of mostly European nations, has been an international cornerstone of alliance for the U.S. and its counterparts abroad.
"What good is NATO if Germany is paying Russia billions of dollars for gas and energy?" the president tweeted Wednesday. "Why are there only 5 out of 29 countries that have met their commitment? The U.S. is paying for Europe's protection, then loses billions on Trade. Must pay 2% of GDP IMMEDIATELY, not by 2025."
In another tweet, he invoked the Nord Steam 2, a gas pipeline between Germany and Russia, in criticizing the European country. "Billions of additional dollars are being spent by NATO countries since my visit last year, at my request, but it isn't nearly enough," he continued in a tweet on Wednesday. "U.S. spends too much. Europe's borders are BAD! Pipeline dollars to Russia are not acceptable!"
In fact, his tweets about the organization had become so inflammatory that a reporter brought it up with him. At an unscheduled press conference Thursday in Brussels where Trump ended his two-day whirlwind at NATO, when asked whether he would continue to tweet from aboard Air Force One, he responded, "No, that's others that do that. ... I'm very consistent, a very stable genius."
In the same press conference, as The Washington Post points out, Trump, boasting about his 2016 electoral victory, erroneously claimed (for the third time) that former President Ronald Reagan lost Wisconsin in the elections of 1980 and 1984.
The president notably also made claims about the NATO military budget contribution, percentages of their national GDPs that member countries pay towards the collective defense fund.
Speaking about the member contributions, Trump said, "Everyone has agreed to substantially up their commitment. They're going to up it at levels that they never thought of before." But this assertion didn't seem to have much teeth. Later that day, French President Emmanuel Macron disputed Trump's claim, confirming that per a communiqué issued and signed by the countries, the agreement was merely to return to the agreed-upon 2014 levels of funding.
Trump repeated another spending claim at this press conference, saying that the U.S. was paying more to the military fund than it actually was.
"Germany is just paying a little bit over 1 percent," Trump reportedly said at a summit breakfast, "whereas the United States in actual numbers is paying 4.2 percent." Fact-checking Trump's claims, NPR reports that while the U.S.'s contribution is roughly two-thirds of the total NATO pool, the U.S. is only paying about 3.3 percent of its GDP. "There is a common budget that all NATO allies pay into," said Aaron O'Connell, a National Security Council staffer under President Barack Obama, per NPR. "It's about $2.8 billion and the U.S. pays 22 percent of that, not 90 percent."
He also backpedaled on his doubtful statements on NATO itself, saying, "I believe in NATO. I think NATO is ... probably the greatest ever done."
The ramifications for Trump's freewheeling international remarks could be serious. Per CNN, NATO diplomats are concerned about his behavior on the world stage. A senior European NATO diplomat told CNN, "It's like the world has gone crazy this morning," adding that "Trump's performance was beyond belief."
And true to form, Trump also left many people, in the diplomatic community and beyond, genuinely at a loss as to what to make of his comments. "This is very confusing," another senior European diplomat said per CNN, referring to he president's attacks on Germany. "It doesn't make any sense. We're still in the process of analyzing it."
His remarks were only part of a larger picture of Trump's overall attention-grabbing appearance at the summit, which included showing up late to Thursday's events, missing scheduled meetings, and his off-the-cuff press conference, as reports show.
The fanfare surrounding his European visit is sure to continue as the president heads into the weekend. Trump and his wife Melania are scheduled to continue their tour abroad with a two-day stop in the U.K. starting Thursday. In London, demonstrations have already been planned in light of his visit. The public displays include musical protests, rallies, and — wait for it — a baby Trump blimp. Asked about his upcoming trip to London, he also said: "I think it's fine ... I think they like me a lot in the U.K."