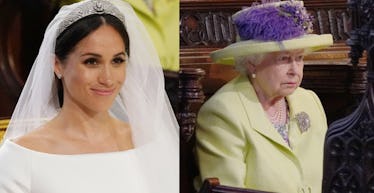 Meghan Markle Broke A Major Tradition While Leaving Church & It Has To Do With The Queen
Getty/Getty
Meghan Markle isn't shy about leaving her own personal stamp on her wedding. From the inclusion of gospel choirs to her choice to walk down the aisle partly on her own, she's happy to go her own way — and it's a beautiful thing to watch. She broke another royal tradition while leaving St George's Chapel at Windsor Castle on her way out of the ceremony and it has to do with her new husband's grandmother, Queen Elizabeth II. Meghan didn't bow to the queen at the royal wedding, unlike what royal brides before her did.
If the idea of bowing to anyone seems a little unusual to you, it's actually a historic British custom that shows deep respect. We don't typically bow here in America, but it's part of standard protocol for members of the royal family — even for members who marry into the family, like Meghan did today, on Saturday, May 19.
According to The Telegraph, if wives to the heirs of the throne are in the presence of their husbands, they only need to curtsey to Prince Charles, the Duchess of Cornwall, Prince Philip, and, of course, the Queen. The protocol is slightly different if they are at an event on their own. In those cases, they must curtsey to all princes and princesses who were born with titles — so, for example, Princess Eugenie and Princess Beatrice.
The reason people bow in front of royals has religious roots. According to Customs and Conflict in British Society, British beliefs dictate that monarchs were installed in their positions by God. Therefore, they hold important significance, and non-royals should bow to them.
Following the wedding of Prince William, Duke of Cambridge and Catherine, Duchess of Cambridge on April 29, 2011, both bride and groom bowed to the Queen. They conformed to royal protocol and tradition, as was expected.
While both the Duke of Sussex and the Duchess of Sussex (that's Harry and Meghan! They received their new official titles this morning) were expected to bow to the Queen on their way out of church following their wedding ceremony, neither did. It's unclear if this was an intentional departure from tradition or simply an oversight. It's doubtful that they meant any disrespect.
It's important to note that the Queen has given her permission for Harry to marry Meghan, as required by the Royal Marriages Act of 1772; That's the statute that requires the monarch to approve the marriages for the first six people in line for the throne. Harry is sixth in line, after Prince Charles, Prince of Wales; William; Prince George of Cambridge; and Princess Charlotte of Cambridge; and Prince Louis of Cambridge. The Queen announced her approval of March 14.
She wrote:
I declare My Consent to a Contract of Matrimony between My Most Dearly Beloved Grandson Prince Henry Charles Albert David of Wales and Rachel Meghan Markle, which Consent I am causing to be signified under the Great Seal and to be entered in the Books of the Privy Council.
It looks like there are no hard feelings between the Queen and the newlyweds. Rather, it's fair to guess that Harry and Meghan were set on doing their wedding according to their own personal style — or, rather, to the degree of independence that they can have as a royal couple uniting in one of the most-watched weddings in the world.
There are certain traditions they couldn't or didn't want to break: Meghan wore a high-necked, long-sleeved, elegant white gown, as predicted. Harry wore his military uniform, as expected. And they followed tradition by marrying in such a historic church. So, in many ways, they did adhere to royal traditions.
It was a beautiful wedding day. Many congratulations to the happy couple, and everyone watching along happily at home!