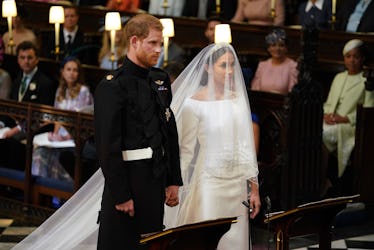 Prince Harry Broke Tradition As Meghan Markle Walked Down The Aisle & Here's How
WPA Pool/Getty Images Entertainment/Getty Images
The sun was shining on Saturday, May 19 as Meghan Markle arrived at St. George's Chapel at Windsor Castle to marry her prince, and she looked absolutely stunning as she entered the chapel. The American actress had a long, probably nerve-racking walk down the aisle, and, the whole time, her husband-to-be faced her. This may seem normal to us Americans, but in fact, Prince Harry watching Meghan Markle walk down the aisle broke a major tradition.
In fact, the groom facing away from the bride as she walks down the aisle is all part of British tradition, according to Inside Weddings. The wedding magazine explains that this is just one of the many ways in which British wedding traditions differ from American ones. In the United States, the groom typically watches the bride walk down the aisle, but in the United Kingdom, he faces the altar instead and doesn't look at her until she reaches his side, after she has been "given away" (let's not get into the patriarchal undertones — or heteronormativity — of all this right now, but please know that I'm thinking about it, OK?). But Markle broke tradition by not being "given away," and sure enough, Harry broke tradition by watching her do so.
If you're a royal obsessive but not quite a Brit yourself, you might remember seeing this tradition play out before — say, seven years ago, at a certain other prince's wedding? Yes, that's right, way back in April 2011, when Prince William (Harry's brother) and Kate Middleton got married, the same thing occurred where William faced away from Middleton as she made the long walk down the aisle.
That moment led for some truly adorable and memorable little details within the wedding. For instance, as Prince William was dutifully facing the altar as his wife-to-be made her grand entrance, Prince Harry excitedly turned around the check her out.
"She is here now," Harry appeared to have whispered to his big brother, according to ABC News, cracking a big smile.
"Well, she looks beautiful, I can tell you that," Harry also possibly told William, according to the Daily Mail. You can check it out for yourself early on in this video:
If you keep watching that video, up to just before a minute in, you can see the moment that Middleton reaches Prince William, and he's finally able to glance over at her as they stand side-by-side at the altar.
"You look beautiful," Prince William appeared to tell Middleton when they were at last together, packed between Prince Harry and Middleton's father.
All that anticipation made for a pretty great moment, to be totally honest about it.
Just as Prince Harry chose to not follow this one detail of a British tradition, his wedding has been altogether revolutionary in terms of just how many traditions and norms have been broken.
To begin with, there's the entire identity of the bride. Markle is the first American woman to marry a British royal since the 1930s, when Wallis Simpson, an American socialite, married Edward VIII. Edward had become the king of England, but he abdicated the throne to marry Simpson, as marrying an American was against royal rules.
Markle is also divorced, which used to be another major red flag for British royals. Members of the British royal family can't marry someone who is divorced without the queen's permission — which you'll know if you watched The Crown — and Queen Elizabeth has been notoriously averse to allowing that. But in 2005, however, Elizabeth allowed Charles, William and Harry's father, to marry Camilla Parker Bowles, who was divorced.
Finally, Markle is biracial, which comes up against the royal family's traditional overwhelming whiteness. In fact, the public had a racist backlash to Harry dating Markle that got so bad that Kensington Palace had to issue a statement in 2016 to tell everyone to grow up and back off.
This is all very cool, considering that progress and inclusivity are pretty cool things, and it makes it even better that Harry broke tradition when it came to that final walk down the aisle. Here's to years of happiness!