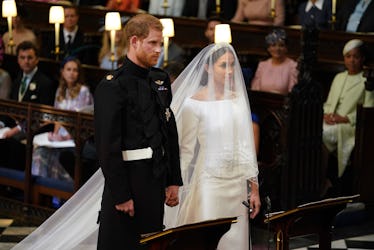 Here's Your First Look At Meghan Markle & Prince Harry As A Married Couple
WPA Pool/Getty Images Entertainment/Getty Images
Meghan Markle is officially British royalty! She and Prince Harry tied the knot in a stunning ceremony on Saturday, May 19, in St. George's Chapel at Windsor Castle, and fans of the royal family are shook as hell by this wedding. Seriously, the whole day was out-of-this-world gorg. The couple looked so happy throughout the whole thing, and the photos of Prince Harry and Meghan Markle on their wedding day don't even do the event justice.
The wedding started with a ceremony in St. George's Chapel at Windsor Castle at 12 p.m. London time, but in true royal fashion, onlookers got the chance to watch the various members of the royal family and Markle's family arrive at the chapel. The official website for the royal family promised "a spectacular day of pageantry" with this wedding, and oh boy, did they deliver on that promise. The best part of the pre-ceremony parade (I'm sure there's a more official name for this, but I'm choosing to call it a parade because, like, that's what it is...) was seeing Meghan Markle roaming through the street in a horse-drawn carriage. I'm not saying I want to be this extra on my wedding day, but I am saying that if it fits in the budget, I will sit in the horse-drawn carriage.
But enough about me. Here's your first look at Prince Harry and Meghan Markle on their wedding day:
Here's Meghan and her mother in the car on the way to the chapel.
Just look at Meghan walking down the aisle.
And here's Harry watching Meghan walk down the aisle.
GUYS. Harry is crying.
Don't even get me started on this shot of Doria Ragland, Meghan's mother, watching her daughter get married.
The two of them looked so happy to be together at the altar.
They really were the picture of love.
The answer to your question is no, I am most certainly not OK.
Prince William and Kate Middleton were there with their Prince George and Princess Charlotte, but Prince Louis wasn't there seeing as he is a literal infant. Queen Elizabeth and Prince Philip rolled up to the wedding looking extra fly. Prince Charles and Camilla arrived just before Queen Elizabeth and Prince Philip, and Camilla wore the most extra hat in the world. I love every inch of it.
What a majestic day this has been. The ceremony started at 12 p.m. London time, which meant us American peasants had to be awake at 7 a.m. on the East Coast and 4 a.m. on the West Coast in order to watch the wedding happen live. The royal family website said in a statement that there would be a processional through the town of Windsor following the ceremony so onlookers could see Harry and Meghan and being involved in the big day.
The statement said,
At 1300, the couple, now married, will undertake a Carriage Procession along a route from St George's Chapel, leaving Windsor Castle via Castle Hill and processing along the High Street and through Windsor Town, returning to Windsor Castle along the Long Walk.
It continued, "They hope this short journey will provide an opportunity for more people to come together around Windsor and to enjoy the atmosphere of this special day."
Lots of celebrities strolled up to the wedding. Oprah, Idris Elba, Victoria and David Beckham, Priyanka Chopra, Serena Williams, George and Amal Clooney were just some of the celebs invited to this royal event. I watched this entire thing starting at 5 a.m., fam, so you can bet I cried through a lot of this. Mostly out of exhaustion, but then I saw Meghan in the car for the first time and then I totally cried about that exclusively. I just love joy, OK?! Congratulations to the happy couple!