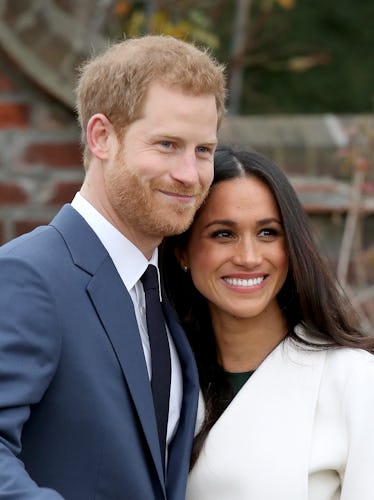 Prince Harry & Meghan Markle's Bridal Party Was Just Announced & It'll Make Your Heart Melt
Chris Jackson/Getty Images Entertainment/Getty Images
Close out of all the tabs you have open about Meghan Markle and her father and let's look at something adorable about the royal wedding instead. Prince Harry and Meghan Markle's bridal party was just announced by Kensington Palace! According to a statement on the royal family's official website, there will be 10 members of their bridal party — six girls and four boys — and yes, Prince George and Princess Charlotte are part of the group.
Kensington Palace tweeted out the link to the statement on the morning of Wednesday, May 16, just three days before the royal wedding goes down on May 19. The statement wastes no time in getting to the list of kiddos chosen for the royal couple's bridal party. It simply says, "Prince Harry and Ms. Meghan Markle have chosen the following Bridesmaids and Page Boys for their wedding on Saturday 19th May," and then goes right into the list. So, let's do the same thing and just get right down to business, shall we?
Here's the list of Prince Harry and Meghan Markle's bridesmaids and page boys (keep in mind that royal weddings traditionally feature kids in these roles):
Bridesmaids
Princess Charlotte, 3
Florence van Cutsem, 3 (Prince Harry's goddaughter)
Remi Litt, 6 (Meghan's goddaughter)
Rylan Litt, 7 (Meghan's goddaughter)
Ivy Mulroney, 4 (Jessica Mulroney's daughter)
Zalie Warren, 2 (Prince Harry's goddaughter)
Page Boys
Prince George, 4
Jasper Dyer, 6 (Prince Harry's godson)
Brian Mulroney, 7 (Jessica Mulroney's son)
John Mulroney, 7 (Jessica Mulroney's son)
Jessica Mulroney is a stylist and one of Meghan Markle's best friends. Before it was announced that Markle won't be having a maid of honor, Mulroney was rumored to be one of the most likely choices. And clearly, that was a pretty good guess, seeing as all three of her children are in Harry and Meghan's bridal party.
As to why Meghan Markle won't be having a maid of honor, the reason is pretty thoughtful. A spokesperson for the royal family told People that all of Markle's close group of friends has been helping with the wedding in some respect, so she didn't want to single any woman out and make the others feel less wanted. "She has a very close-knit circle of friends and she didn't want to choose one over another," the source said. "All have been actively involved in helping her prepare for the day and will be there in the days beforehand."
But let's get back to this list of kiddos! I, for one, can't freaking wait to see Princess Charlotte and Prince George walk down the aisle in their Uncle Harry's wedding.
My heart is melting at the thought of these two little nuggets at the wedding. Their baby brother, Prince Louis, isn't even one month old yet, so it makes sense that he wouldn't be a page boy. The youngest member of Harry and Meghan's bridal party is Zalie Warren, who is Harry's 2-year-old goddaughter.
The statement announcing the list didn't reveal any details about what we can expect to see the bridal party wearing, but it did say "details about the Bridesmaids' dresses and the Page Boys' uniforms will be made available on the wedding day."
Meghan Markle may not be having a maid of honor, but Prince Harry is having a best man. And it's Prince William!
Kensington Palace announced on April 26 that Prince Harry asked his brother to be his best man. The announcement came in a series of tweets that collectively said,
Prince Harry has asked his brother The Duke of Cambridge to be his Best Man at his wedding to Ms. Meghan Markle. Prince Harry served as best man to The Duke of Cambridge at his wedding to Miss Catherine Middleton in 2011. The Duke of Cambridge is honoured to have been asked, and is very much looking forward to supporting his brother at St George's Chapel, Windsor on May 19th.
Are you feeling that royal wedding buzz yet?! May 19th is only a few days away, people. Get. Pumped.