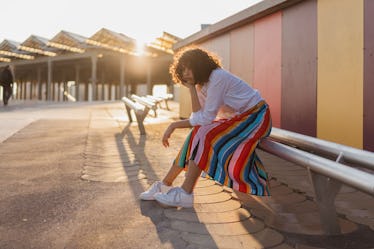 4 Personality Types Most Likely To Stand You Up, So Be Careful
Getting stood up can be, simply put, the worst. In fact, it can be right up there with ghosting and breadcrumbing as one of the most inconsiderate dating behaviors we have to deal with. Fortunately, understanding your date's personality can help you to make sense of some of this nonsense. For example, knowing the Myers-Briggs personality types most likely to stand you up may come in handy for potentially minimizing the disappointment. (And just to be clear — you have every right to feel let down.)
Someone's Myers-Briggs personality type can actually tell you a lot about how they'll behave in a dating context. For example, a person's personality type can offer insight into what turns them on in the bedroom, or even the likelihood that they'll be unfaithful in a relationship. And of course, knowing someone's type (as well as your own) can also help you to assess how romantically compatible you are with them.
Given that there are certain personality types that may be more interested in polyamory, or more interested in problem-solving during a relationship conflict, it makes sense that there are also others that are more likely to stand you up. It's important to note that obviously, there are legitimate reasons why someone might resort to this — like if they're suddenly hit with a family emergency or struggle with social anxiety. But oftentimes it comes down to particular personality traits that contribute to this behavior — like flakiness or avoidance, for example.
Wondering whether your date might leave you hanging? Brace yourself, because these Myers-Briggs types are most likely to be a no-show.