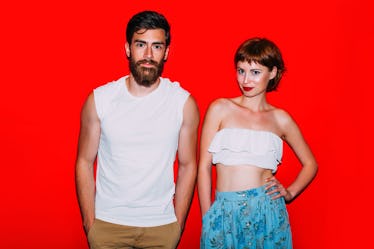 These Are the 4 Myers-Briggs Types Most Likely To Cheat, So Find Out Your SO's ASAP
When a girlfriend of mine discovered her partner of four years had been cheating on her, all of her friends were left scratching their heads over whether there were signs we had somehow missed. "He was pretty outgoing," said one friend. "And sooo charming," added another — as if these should have been clues to his unfaithful ways. Which begs the question: are there personality types most likely to cheat on their partners?
The Myers-Briggs Type indicator can tell you a lot about how someone behaves in a relationship. The test, which was published in 1943, was developed by Katharine Cook Briggs (who was only 14 years old when she attended college) and her daughter Isabel Briggs. The test focuses on four different dimensions of a person's personality, with two possibilities for each: Where your attention is focused (Extraversion or Introversion), how you take in information (Sensing or Intuition), how you make decisions (Thinking or Feeling), and how you deal with the world (Judging or Perceiving). The four letters that make up your type encompass which trait you embody for each category. There are sixteen different possible personality types, and they can reveal a whole lot about how a person interacts with the world — including whether or not they're likely to cheat.
Indeed, Myers-Briggs personality types can be useful in terms of defining our relationships with others — and it makes sense, too. Our personalities can affect our needs, desires, insecurities, and fears in a relationship. They can also dictate some of our tendencies – and infidelity is no exception. However, it's worth noting that they in no way determine who you are or predict what you might do. Every individual has the power to make their own decisions, regardless of their personality type. Alas, here are the four MBTI types that may be tempted to be unfaithful.