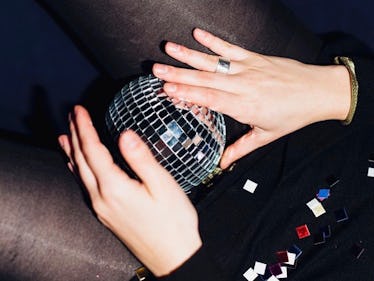 The 2019 New Year's Eve Sex Position For Your Sign, Because The Stars Know Best
Would you look at that: You have made it to the end of 2018! Congratulations! For some of us, the year's close means clinking a glass of bubbly and watching the ball drop with the homies. For others, New Year's Eve means celebrating all your 2018 triumphs and accomplishments — in the bedroom. If you believe the stars rule everything around you, it's crucial that you look into which 2019 New Year's Eve sex position is best for your sign.
Whether you're locking lips tonight with a current hookup or an established partner, you're probably clued in (by now) as to how star signs have affected your chemistry all-year-long. Maybe matching with a Sagittarius on Tinder has made for a fun fling. Or maybe starting something new with a Cancer was the best choice you've made in your love life in awhile.
While you're double-checking your best raspberry-colored velvet blazer or sequined midnight blue bodycon dress, there's a good chance you're thinking about just how you'll toast farewell to the whirlwind that was 2018. Whether your partner believes in astrology or not, sliding this link over to them will ensure that your year ends with cosmic success.