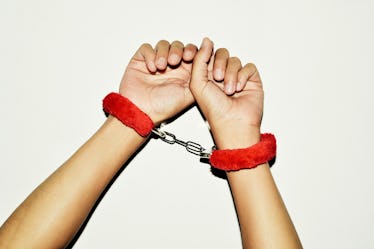 4 BDSM Sex Moves To Try With Your Christian Grey If You Love 'Fifty Shades'
If you and your partner come home after watching the new Fifty Shades movie and suddenly find yourselves feeling more adventurous than usual when it comes to sex, you're not alone. While it's easy to get inspired by Ana and Christian's debauchery, it can be a bit more challenging to actually take some of those moves from the screen and into your bedroom. If you want to try Fifty Shades-style sex, consider these BDSM sex positions. All four are great for novices, but they're also far from vanilla. Whether you'd like to start off with light spanking, or you're already over basic handcuffs, there's at least one move here you'll want to try.
Most of these positions also use toys or props to play up the dominant and submissive roles and to maximize pleasure for both partners. Of course, when engaging in any kind of BDSM activity, only go as far as you're both comfortable with. Exploring your sexual fantasies should always be enjoyable. Make sure you and your partner establish a safe word beforehand in case one of you needs to stop. When testing out these BDSM moves, pay attention to what you like. The better you know your body, the more pleasurable the sex will be.
1. Spread Eagle
One of Christian's signature moves, both in Fifty Shades of Grey and in Fifty Shades Darker, is to use one of his ties to blindfold Ana so she can't see what he is about to do. The spread eagle sex position is ideal for this kind of bondage and discipline play. One person lays on the bed, either facing up or down. Their wrists and ankles are then secured to the corners of the bed. Make sure you do not do this too tightly — it's important to leave enough space so that you can fit one finger in between the person's body and the binding. For a more advanced take on this move, add a spreader bar, which keeps the wearer's legs a set distance apart.
2. Bent Over
Christian and Ana love spanking. Take a page out of the Fifty Shades book and incorporate spanking into your bedroom routine. Have your partner bend you over the bed, or get on all fours like you would for doggy style sex. Your partner should start with soft spanks, either with their flat hand or a paddle. Speak up and let them know whether you'd like to be hit harder. Spanking can be used as teasing before or during sex. You and your partner may also want to experiment with gentle hair-pulling in this position.
3. Against The Wall
Another often-utilized act in Fifty Shades is when Christian pushes Ana against the wall. This could happen in his house, in the shower, or even in an elevator. Have one person give up control by letting the other pin their arms above their head while in an upright position. You can try this standing in the shower, leaning against a wall, sitting on a counter, or in missionary. The shared experience of not being able to touch your partner while they can do whatever they want to you has the potential to drive you both wild.
4. Kneeling
Christian asks Ana to greet him on her knees in the Red Room, which shows that she is ready to submit to him. Have one partner act as the submissive and kneel on the ground, while the other uses a riding crop to inflict pleasurable pain. The sensation of the whip stimulates the submissive and allows the dominant partner to exercise control. If this turns you both on, keep the dynamic going by talking dirty during sex and making sure the submissive says "please."
Celebrate your sexual freedom by taking inspiration from Fifty Shades Freed when the film hits theaters on Feb. 9.
Check out the entire Gen Why series and other videos on Facebook and the Bustle app across Apple TV, Roku, and Amazon Fire TV.
Check out the "Best of Elite Daily" stream in the Bustle App for more stories just like this!