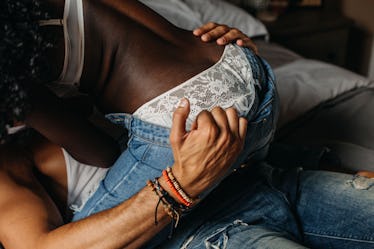 If You Love Being On Top In Bed, You're Probably One Of These 3 Zodiac Signs
There's a reason "what's your sign?" is a frequently asked question when it comes to flirting and dating. Your zodiac sign affects many aspects of your personality, behaviors, and instincts and can offer insight into what makes you tick and why. This, of course, translates to sexuality and sexual preferences, so it's no surprise that there are absolutely specific zodiac signs that love to be on top in bed. Different zodiac signs approach sex in different ways — some prefer sex to be emotional and connected, while others prefer sex to be purely physical.
What turns you on might change from one day to the next, or from one partner to another. But certain sexual preferences can be consistent, like your favorite positions or attitude towards foreplay. I once dated a guy who only liked to have sex in the afternoon. Seriously. (I'm sure there's another person somewhere out there who gets hot at 4 p.m. on the dot, and I really hope they find each other!) Knowing your partner's sign and how it relates to yours can be really helpful to understand and anticipate your communication styles, attitude towards conflict, and sexual appetite. So while each sign has it's own sexual nature, these three signs especially love the dominance, power, and showiness of being on top in bed.