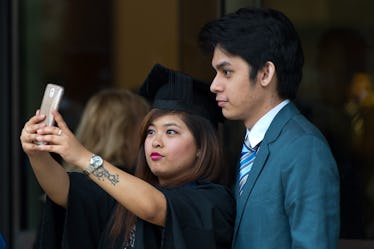 The Most Used Instagram Face Filter Of 2017 Will Make You Feel Really Basic
Ben Pruchnie/Getty Images News/Getty Images
It feels like it's been forever since Snapchat launched their first face filters and became the app you could go to to take a selfie even when you weren't feeling so hot. But then, this year, Instagram launched their own filters, making it clear to Snapchat that the rivalry between the two apps was still alive and well. Thankfully, for us, all that really meant was more filters to choose from, hooray! Here we've outlined the most used Instagram face filters of 2017, and they'll probably make you feel really basic. But it's okay; so is everyone else.
According to Instagram user data, the most used face filter on the Instagram app is the puppy filter. This should come as no surprise to those who remember the launch of Snapchat's first face filters and the subsequent dog filter-craze. Look, some of us really love dogs, some of us just want to be them. No judgments, OK?
Following the furry friend theme, the bunny and koala filters are the next most used, respectfully. I like the bunny filter, and it definitely beats the terrifying bunny filter that Snapchat once had. Seriously, what was up with that? Then there's the genius filter, for the academically inclined. TBH, I was never good at math, so it makes sense that I've never used this one. But hey, to each their own.
In last place, surprisingly, is the love filter, which Instagram released for Valentine's Day this year. This is honestly my number one fave, along with the rainbow light face filter, which I can't believe didn't crack the top five. But I digress. Instagram added a number of new capabilities to the Stories feature this year, including hashtags, stop-motion, and everyone's favorite, superzoom.
This year overall has been a constant stream of new feature blessings from Instagram, and I'm absolutely not mad about it. Right around this time last year, we got Instagram live streaming, which helped us keep up to date with our favorite celebs and influencers even more than we already could. Then, in February, we got slideshows on Instagram, meaning we never had to narrow down our selfie choices to one out of 150 again. In May, face filters came along, helping us take our stories to the next level, and in June, the Instagram Archive feature allowed us to curate our feed without deleting old posts forever.
The past month alone has been a whirlwind of updates from the app. In early December we got Stories Highlights and Stories Archive, which really allowed us to expand our content creation and personal branding. Most recently, we got the ability to follow hashtags on Instagram, so that we don't have to do a new search every time we want to take a mental vacation and scroll through some #tropical pics. *sips coconut water*
The influx of new features has been a bit overwhelming and intimidating, but thankfully, Instagram has made them all super easy to use. If you want to create a Stories Highlight, simply tap the circle under your Instagram bio that says "New." From there, you'll be taken to the Stories Archive, where you can select content from any of your past stories and curate it to crate something totally new. Give it a name and there you go! Your first highlight. Alternatively, you can access the Stories Archive by selecting the clock icon in the upper right hand corner of the app. Then, select "Stories" from the dropdown menu, and take a scroll down memory lane.
To follow a hashtag, either click on one that appears in a post, or search for one as you normally would. You'll be taken to a page featuring posts with that hashtag, a story for that hashtag, and a number of related hashtags. Once you follow, top posts from that hashtag will show up in your newsfeed, just like your friends' posts. Easy peasy, right? Plus, the hashtags you follow are public, so people who follow you (or visit your profile, if it's public) can get a glimpse into your tastes and hobbies.
It's certainly been a big year for Instagram, and I can't wait to see how they outdo themselves in 2018.
Check out the entire Gen Why series and other videos on Facebook and the Bustle app across Apple TV, Roku, and Amazon Fire TV.