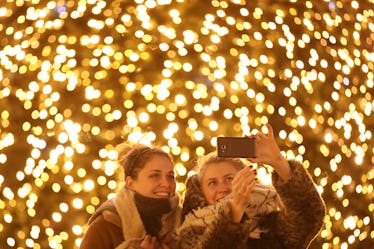 You Can't Make Stories Highlights On Instagram Without This Key Feature
Sean Gallup/Getty Images News/Getty Images
Instagram has changed the game in a big way. On Tuesday, Dec. 5, the app unveiled Stories Highlights and its corresponding Stories Archive. Stories Highlights are essentially like pinned tweets for your Instagram. If that video of your BFF dancing makes you laugh no matter how many times you watch it, or you want to keep that Boomerang of the falling leaves up just a little longer, Stories Highlights is for you. So what is a Stories Archive on Instagram, anyway? It's actually super important.
What if you don't realize in the moment just how good that photo of your brunch is? Have no fear. Now, instead of disappearing after 24 hours, all of your stories will move to your Stories Archive, which is another new feature from Instagram. In the Stories Archive, you can review your stories and decide if you want to bring them back to life as a highlight. This is similar to the Snapchat Memories feature. Clearly, the rivalry between the two apps is still alive and well.
If you're already planning out some highlights for your profile, you're not alone. I've got the mental blueprints for a pretty sweet gingerbread house that I'll definitely want to show off more than 24 hours. So how do we use it? Thankfully, Instagram has made it super easy to start posting highlights.
To create a Stories Highlight, simply go to your profile and tap the circle that says "New" on the far left (this is the section of your profile where your highlights will live). From there, you'll be taken to your Stories Archive, where you can choose which story you'd like your followers to see again. Before you can take Stories from your Stories Archive, you must first post them to your regular Instagram Story. You also get to create a title for your highlight and pick a cover image for it, because #branding.
If you want to take a walk down memory lane, you can access your Stories Archive by tapping the Archive icon on your profile (it looks like a little clock). From there, you can easily switch between your Posts Archive and your Stories Archive. If a story pops out at you, you can add it your current story, share it as a regular post, or create a new highlight. If for some reason you want to turn off the auto-archive feature, you can do so in your profile settings.
Unlike your regular Instagram Stories, Stories Highlights will stay on your profile as long as you'd like. So if you really just can't get over the puppy you saw on your morning run, you don't have to. If you were really lucky and saw multiple puppies on your run, there's even better news: You can have as many highlights on your profile as you want. Yay, Highlights! Yay, Puppies!
But wait, the feature keeps getting better — seriously. Maybe 30 photos of the puppy is a bit much (I don't think there's a such thing, but that's just me), but with Highlights, you can pick and choose the photos from your old Instagram Story that you want to include. You can narrow it down to maybe five (okay, realistically, ten) photos of Bailey the Yellow Lab. Yes, you can. I believe in you.
Accidentally picked the wrong photo? No worries. The Highlights feature lets you edit the photos you've included in your highlight, as well as the cover image. And when you delete them, they don't disappear. instead, they go right back into your trusty Stories Archive, ready for your next spark of highlight creativity. I see a lot of "2017 Stories Highlights" from all of my friends, family and favorite brands in the near future, and honestly, I can't wait.
Stories Highlights and the Stories Archive come on the heels of a other changes Instagram has made to Stories. In November, the app began allowing users to post content that was more than 24 hours old to their Instagram Stories. When doing this, the app prompts you to add a sticker indicating when the photo or video was taken, alerting viewers that the content is not recent and eliminating unnecessary FOMO.
With the holidays coming up, you're bound to make countless shareable memories. Thanks to these new features from Instagram, you can post them all and keep the mems' alive well into the new year.
Check out the entire Gen Why series and other videos on Facebook and the Bustle app across Apple TV, Roku, and Amazon Fire TV.