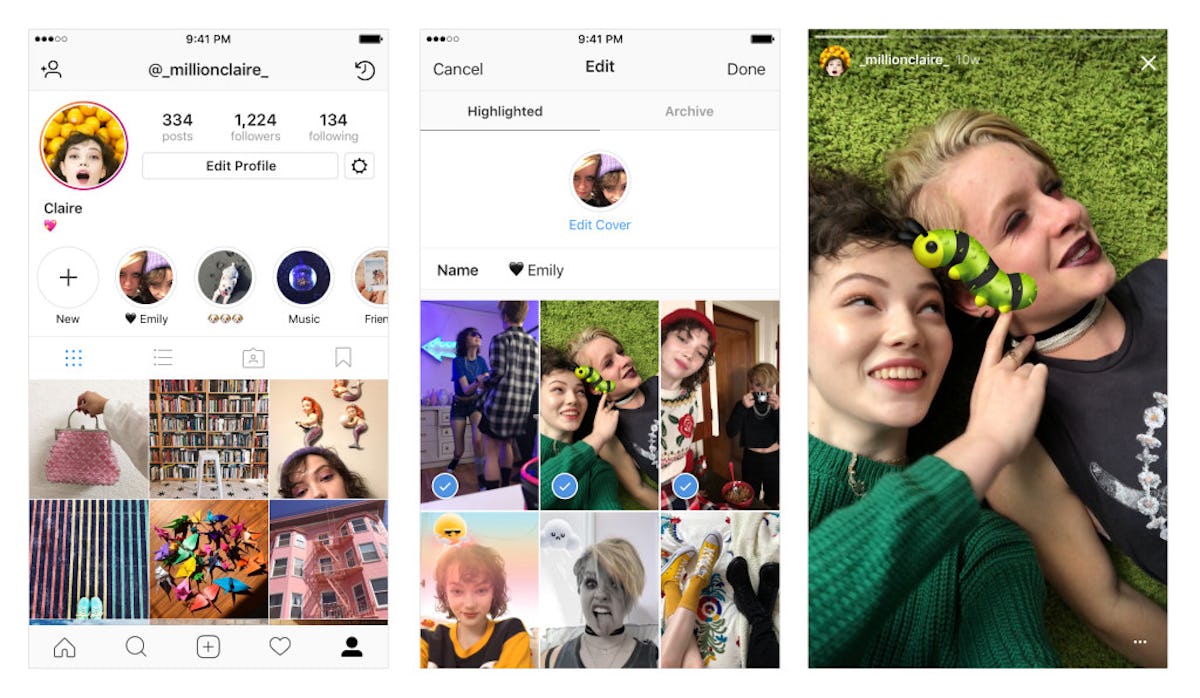 You Can Edit Stories Highlights On Instagram After You Post Them, So Don't Panic
Instagram
Christmas came early, photo fans. In its most notable profile update yet, Instagram decided to allow users to relive their favorite Stories — photos and videos that were once short-lived, fleeting memories that disappeared within 24 hours. If you're ready to try this new feature but aren't quite on board just yet, you're going to need to learn how to edit Stories Highlights on Instagram.
Before you start tweaking and adjusting, there are a few things to know about this update. First thing's first: Stories Archive is a private space where you can revisit your favorite Stories — even if they expired many moons ago. Try not to feel nostalgic scrolling through those bad boys.
So what's the point of returning to these? By accessing Stories Archives, you're then able to select particular photos and videos to add to your Stories Highlight — the cream of the crop, the footage you want showcased for everyone to see. Think of Stories Highlights as pinned tweets, but for Instagram. Whatever is near and dear to your heart — and you believe is worthy of special recognition — will find a perfect home in this new feature.
I, for one, am pretty pumped about this news. After posting my holiday decorations to Stories last week, I instantly regretted it because everyone deserves a look at my fantastic décor all December long. How else am I going to utilize my tiny winter wonderland to the fullest? Stories Highlights, I'm comin' for ya.
Alright, I know you're probably excited to start perfecting those Stories, but let's figure out how to get them on your profile first.
Before anything else, make sure you're using version 25 of Instagram. If you don't have it, you have to do a quick download. Think of that Charlie Brown tree from your Stories you want to show off, friends. Update, update, update.
All set? Cool beans. Next, go to your profile and head to the Highlights section that appears underneath your bio. Once you click "New," you'll automatically be directed to Stories Archives (where you'll find those pics you're dying to show off). Gather your faves, tap "Next," pick a fun name and a cover photo, and voila! All you need to do to is tap "Done" and "Add." It's that simple.
But what if you're not totally in love? Fear not, friends, it's the moment you've been waiting for: How to edit Stories Highlights.
Tap and hold on an existing highlight and select "Edit Highlight." Now, you'll be able to adjust your cover photo, the shots you have include, and your cover photo. If you're really not feeling the group of pictures you've assembled, you also have the option to delete them. However, just because they're gone from Stories History doesn't mean they'll be removed from your Stories Archives. Let's breathe a collective sigh of relief. Thanks for that save, Instagram.
Thanks to this new way of promoting what matters most to you, the memories you thought were once fleeting are making a return — and under your terms. Your Stories Highlights can stay on your profile for as long as you'd like. Given this news, I might forgo featuring my Christmas decorations and opt for all my spooky Halloween pics instead, as I'm always in an autumn and spooky state of mind, no matter the time of year. (What? Too weird?)
Get ready for a trip down memory lane and happy highlighting. Looking forward to seeing what you come up with!
Check out the entire Gen Why series and other videos on Facebook and the Bustle app across Apple TV, Roku, and Amazon Fire TV.