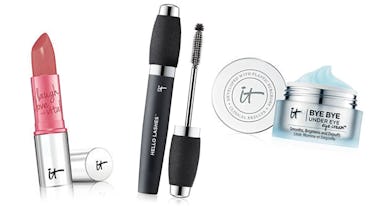 IT Cosmetics' Black Friday Sale Gives You 20 Percent Off & Free Mascara & Skincare Products
IT Cosmetics
While I love a holiday bundle as much as the next guy or gal with a serious shopping problem, my favorite kinds of sales and deals are the ones that offer full-on, percent-off discounts. Fortunately, the IT Cosmetics Black Friday 2018 sale has me covered this year, with site-wide savings that start on Thanksgiving and last all the way to the first week of December. That's right, people, I'm talking 11 days of incredible shopportunities, from Nov. 22 through Dec. 2, and you can catch me taking advantage of every single day, because why wouldn't I? IT Cosmetics has blessed us with a lengthy sale, and it would simply be rude not to partake to the fullest extent.
For their official Black Friday sale, which will run from Nov. 22 through Nov. 25, shoppers on the IT Cosmetics site can enjoy 20 percent off their orders using the discount code "ITFRIDAY." There will also be a $36 value doorbuster set offered for the low price of $18, featuring some mini versions of the brand's best-selling skincare and beauty products, including a travel size version of the Bye Bye Makeup Melting Balm, a deluxe sample of the Superhero Mascara (one of my favorites for va-va-volume!) and a deluxe sample of the ultra-rich Bye Bye Under Eye Eye Cream. Since IT Cosmetics is so well-known for their base products, I'll personally be using this discount to stock up on some of my favorite concealers.
The Perfect Lighting Radiant Touch Magic Wand ($29, itcosmetics.com) is my brightening secret when I haven't gotten enough sleep, and the Bye Bye Breakout Full-Coverage Treatment Concealer ($28, itcosmetics.com) is my go-to for treating and covering unexpected spots.
OMG, you thought that was it? As if. Following the first leg of the sale is a second deal in honor of Cyber Monday, which will allow 25 percent off purchases of $30 or more on Nov. 26 with the code "CYBER25." Plus, all orders over $70 will get a complimentary Hello Lashes 5-in-1 Mascara ($24, itcosmetics.com), thank you very much.
The Hello Lashes Mascara features a biotin and collagen-infused, lash-loving formula that lengthens, darkens, curls and adds volume:
Last, but not least, the third leg of IT's holiday savings will run from Nov. 28 through Dec. 2. Using the code "GIFT4U," shoppers spending over $50 will be treated to free shipping, as well as a complimentary Vitality Flush 4-in-1 Reviver Lipstick Stain ($20, itcosmetics.com).
The brand describes Vitality Flush as an "all-in-one balm-gloss-stain-lipstick." So, really, you're kinda getting four lippies for free. Score.
My favorite part about this sale is already knowing that I'll be placing an order on day one, falling in love with the items that arrive, and placing yet another order before the 11-day window for savings closes. What can I say, I already know I won't be able to resist! Shout out to IT for such a lengthy sale and such major discounts. If you notice my complexion looking particularly soft and radiant come Christmastime, all credit goes to them for allowing me to stock up on some of my skin-loving faves for less.