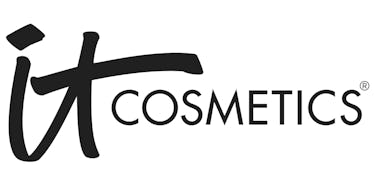 It Cosmetics' Black Friday & Cyber Monday Sales Are So Good It's Criminal
It Cosmetics
It's officially the week of Thanksgiving. While everyone is out searching for turkey and canned cranberry sauce, beauty brands all across the country are gearing up to offer major deals. The wonderful people over at It Cosmetics must've gone crazy, because It Cosmetics' Black Friday & Cyber Monday sales are criminally good.
If you're unfamiliar with It Cosmetics, the brand boasts over a hundred products that solve problems, whether your issue is acne or rosacea or under eye bags. Founder Jamie Lima Kern is a total dream woman who fights for realistic representation in beauty advertising, in addition to being the first female CEO of any L'Oréal brand. Overall, It Cosmetics is a brand of beloved, best-selling makeup and skincare items that actually make good on their claims.
This Black Friday, customers can score a FREE full-size Je Ne Sais Quoi Complexion Perfection Face Palette from the brand after spending $50 with the promo code FRIDAY17. Spending $25 will nab shoppers a complimentary Discover It Kit, which offers travel sizes of cult-favorites like Bye Bye Under Eyes, Brow Power, and Superhero Mascara. All you have to do is use the promo code FREEGIFT on Nov. 25 and Nov. 26.
But the most scandalous part of the It Cosmetics sale is actually Cyber Monday, Nov. 27. On Monday, you can score 20 percent off any $30 purchase online if you use the promo code MONDAY20. On top of that, between Nov. 28 and Dec. 3, any and all purchases will land you free shipping, an It Girl Tote, and free samples of your favorite products. In other words, there's never been a better time to stock up and address whatever beauty woe you want. Here, an introductory breakdown of the brand's beloved problem-solvers.
The CC Cream That Showcases Your Skin
CC creams sound gimmicky, but this product is really the crown jewel of It Cosmetics. The formula offers full but completely natural looking coverage, while protecting skin with nourishing antioxidants and a weightless SPF 50. It's the holy grail of makeup meets skincare, IMHO.
Concealer That Says Bye, Bye, Bye To Eye Bags
I don't know what it is about the cold weather, but my eyes just won't stop watering once a gust of wind hits. If you're like me and tired of looking like you're crying, this waterproof concealer should outlast through the elements.
The Superhero Palette That Will Be Your Kryptonite
If you're a diehard fan of The Princess Diaries like me, you still sing Supergirl by Krystal Harris on the daily. This palette (with its wearable, goof-proof colors) will make you feel like a Supergirl, even if you're struggling to make the first move on Bumble.
So You Agree You're Like Really Pretty Palette
I love specialty palettes, but my favorites are the ones that can take me from day to night stat. And since I'm new to the eyeshadow game, I tend to practice with nude colors (even though eventually I would love to rock a smoky eye). The spectrum of pretty, not over-powering shadows in this palette works any time of day, and will totally succeed at making you feel, like, really pretty.
The Lip Stain That Can Do It All
Forget everything that annoys you about lip stains. This four-in-one product imparts a natural flush with the vibrancy of a lipstick, conditioning feel of a lip balm and the long-wear of a stain — all without dehydrating your lips.
The Travel Kit Fit For First Class
It Cosmetics is known for fantastic brushes with anti-aging and self-cleaning properties, so basically the most high-tech tools in existence. Whether you're in first class, or coach like me, this kit promises to make you look like you have your life together (even if you almost missed your flight!)
The Cream That Says Cool It To Redness
Whether it's summer or winter, I have super red undertones to my skin (thanks mom and dad) and for the most part, I just roll with it. But the worst is when I'm taking photos and I look like the human version of Rudolph. Formulated with aloe and avocado, this hydrator neutralizes redness all year round.
The So You're Not Lost In The Sauce Moisturizer
A wise philosopher once said, "If you ain't got no sauce, then you lost." Or was that Gucci Mane? Either way, It Cosmetics is making sure that all of their loyal customers are set with their version of Secret Sauce. Formulated with the input of top plastic surgeons, this moisturizer promises to hydrate, brighten, and protect skin for the long haul.
The Pencil To Tame Unruly Brows
I'm #blessed that I don't have to get my eyebrows waxed or fill them in on the daily. Still, they are so unruly. One minute they could look super neat, the next a couple of hairs are out of line. This product promises to keep your brows in check, while also encouraging hair growth in sparse areas.