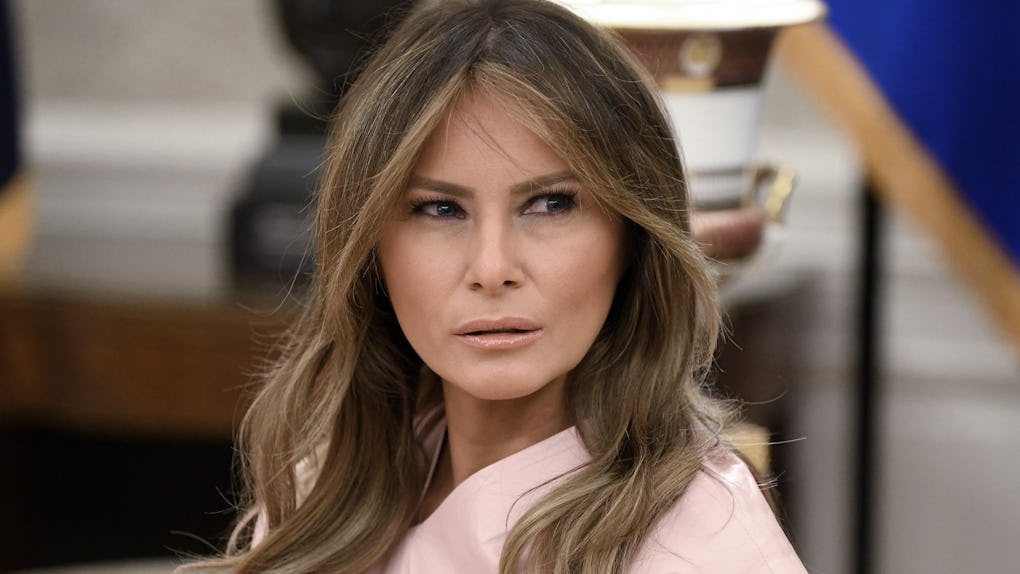 Pool/Getty Images News/Getty Images
The Funniest Times Twitter Clapped Back At Melania Trump Will Make You LOL
When it comes to the Trump family, Melania Trump is sort of the odd woman out. While the other family members are pretty good at wearing their thoughts on their sleeves — and by sleeves I mean Twitter — the first lady is a little more mysterious. Unlike the rest of the clan, it was kind of hard to find the funniest time Twitter clapped back at Melania Trump. Most of the time the country's wondering what she actually feels about being married to Trump, and looking for smoke signals coming out of the White House.
Despite her air of mystery, the first lady will sometimes make a subtle move that will keep Twitter distracted from trying to figure out if she's doing alright or sending codes through Twitter messages. Trump's not in the habit of making her voice heard in the public arena very often, but when she does it sometimes goes very wrong. Like that time she wore an "I don't care jacket" to visit children separated from their parents at the border of the United States and Mexico, or when she named her initiative as first lady "Be Best." What I'm getting at is even though Trump has less to slam on Twitter than the rest of her family, there's still enough there to pick at. With that said, let me guide you through some of my favorite times Twitter clapped back at the first lady. Ready?
Another reasoning for #jacketgate.
Back in June the first lady decided to wear a jacket that said "I really don't care do u?" while visiting a shelter for migrant children at the border. While the jacket might have been fine on any other day, it caused quite the stir given that she was visiting children, some of which had been separated from their families as a result of her husband's zero-tolerance policy on immigration. The sartorial selection got roundly slammed on social media, with people suggesting that it was everything from a denunciation of her husband's critics to a message that she was above all the drama.
But perhaps the best burn is the one that the hullaballoo is actually because Trump is too out-of-touch to realize the implications of her choice in the first place. Twitter user Maureen Johnson wrote,
Okay, Melania's jacket was $39 at Zara so I think there is a HIGH PROBABILITY that the mental discussion went like this, "I WILL BUY WHERE THE POORS GO IT WILL MAKE ME SEEM RELATABLE AH YES THIS JACKET WILL DO NICELY."
Trump is known for wearing extremely expensive clothing, so the fact that she chose a $39 jacket for this occasion seems extremely purposeful. While most of the internet called the first lady out for appearing to purposely wear something that insinuated she didn't care about the children being separated from their families, this particular tweet offers up a different line of reasoning. Maybe she was trying to relate. I'll admit it's a leap.
#BeBest, Mr. President.
As first lady, Trump decided she was going to devote her time to helping children with her "Be Best" initiative. The three-pillared campaign is supposed to tackle the opioid crisis, overall well-being, and importantly, social media etiquette and bullying. A pretty solid plan (albeit very hectic), except for the fact that her own husband is a well-known social media bully.
One of the best things "Be Best" has done thus far is provide fuel for critics, such as Minority Leader Sen. Chuck Schumer (D-NY), to throw some grade A shade at President Trump. Instead of direct burn at either the president or first lady, Schumer just re-tweeted a nasty message about himself from the president, using Trump's own #BeBest hashtag.
Just a few days after Trump unveiled her "Be Best" initiative on May 7, President Trump tweeted some choice words about Schumer, calling him "Cryin' Chuck." Of course the world is used to seeing President Trump call people names on Twitter (see: Crooked Hillary, Slippery Comey, etc.), but this was bad timing. Part of Trump's "Be Best" campaign aims as teaching children how to behave respectfully online — something her husband obviously has some trouble with — which is why Schumer used #BeBest (and some irony) to troll the president, and Trump by extension.
Nothing brings family together in their angst like the holidays.
Everyone was really confused when the White House posted pictures of Trump's first Christmas decorations in 2017 — a dark hallway with spooky lighting, weird tree things and a lone tree at the very end — that screamed more "The Upside Down" than "holiday cheer."
Within seconds Twitter went wild with memes, but one user noticed a bit of a "family resemblance." That same year on Thanksgiving, Ivanka Trump's business handle tweeted "Have no idea how to decorate your Thanksgiving table? Problem solved," accompanied by a photo of a table decorated with what looked like a giant clamshell in the middle filled with mossy pumpkins and gourds. Both Ivanka's Thanksgiving table and Trump's Christmas hallways look a little bleak, which is why user Rachel Handler's tweet is pretty perfect. They wrote,
ivanka: MY holidays are the starkest and the most disturbingly barren
melania: hold my bare existential dread
Pretty solid. Although TBH, I'd still like know what's going on in both these photos.
Trump might not always be in the spotlight, but when she is the Internet sure knows how to rally. Never let it be said that Twitter doesn't know how to bring the jokes.