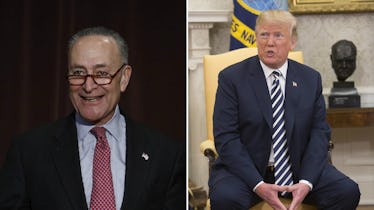 Chuck Schumer Trolled Donald Trump Using Melania's Campaign & I'm Living For It
Bill Pugliano/Getty Images News/Getty Images/Pool/Getty Images News/Getty Images
Remember when you would open Twitter and didn't see politicians thoughts in your feed? That time is all but forgotten now. President Donald Trump is a Twitter fixture these days, and though he usually does the roasting, this time he got bested by another politician. Senate Minority Leader Chuck Schumer slammed Donald Trump using "Be Best," and I am totally living for it.
On the morning of Thursday, May 10, Trump was up to his usual antics of using Twitter to rail against policy and fellow politicians. This time, the president had a few choice words for Schumer — with President Barack Obama and former Federal Bureau of Investigation (FBI) Director James Comey thrown in there. In the tweet, Trump called the senator "Cryin' Chuck Schumer" (yes an adult called another adult "Cryin' Chuck" on the internet) and called out Schumer's history with the Iran deal — Schumer voted against the deal in 2015 during the Obama era and then changed his tune. Trump also called out Schumer for not liking Comey until he was booted from his post by Trump. He wrote,
Senator Cryin' Chuck Schumer fought hard against the Bad Iran Deal, even going at it with President Obama, & then Voted AGAINST it! Now he says I should not have terminated the deal - but he doesn't really believe that! Same with Comey. Thought he was terrible until I fired him!
Schumer decided to bite back in the best possible way, by retweeting Trump's tweet and adding the hashtag "#BeBest."
"Be Best," as in Melania Trump's formal campaign as first lady. A campaign that includes a "social media" focus aimed to teach children how to speak positively online with "respect and compassion," according a May 7 statement from her office. Oh, the irony.
The first lady's statement read,
When children learn positive online behaviors early-on, social media can be used in productive ways and can effect positive change. Mrs. Trump believes that children should be both seen and heard, and it is our responsibility as adults to educate and reinforce to them that when they are using their voices — whether verbally or online — they must choose their words wisely and speak with respect and compassion.
Her plan is focused on the overall advancement of the nation's children and also includes a focus on well-being and dealing with the opioid crisis. But, that's not why Schumer used it to troll Trump.
"Choose their words wisely and speak with respect and compassion," hmm. Can you already see where I'm going with this? Schumer found the perfect opportunity to point out that Trump is taking part in the terrible online behavior that Melania just announced she wants to do away with, and boy, is it ever awkward.
Trump does not have to agree with Schumer, and he doesn't even have to like him. But, the president should probably not be online calling his colleague "Cryin' Chuck." As the leader of the country, you would hope Trump would be trying to set a better example.
The first lady wants adults to teach children to behave respectfully online, so it's pretty ironic that in the meantime, her own husband is attacking his colleagues with ridiculous nicknames on social media. You'd think Trump would keep quiet for at least a little while as to not give any more fodder for this irony parade — but of course, he didn't. Schumer took the opportunity for the ultimate troll, and it's absolutely brilliant. I'm impressed.
So maybe Melania should tell her hubby to lay off Twitter for a while. Or maybe teach him what every child learns at a very young age: if you don't have anything nice to say, don't say anything at all.