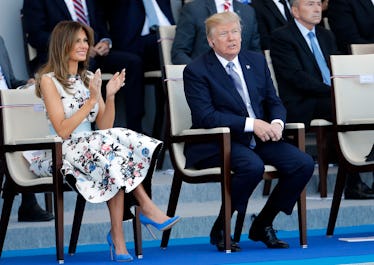 Yes, Melania Trump's Fashion Choices Have A Message Beyond Looking Good
Thierry Chesnot/Getty Images News/Getty Images
We don't know a whole lot about Melania Trump. She's been something of an enigma since her husband, Donald Trump, started his first term as president. What does she stand for? What does she really think of Trump's presidency? What does being a first lady mean to her? If we put on our detective hats, there might be a lot of answers to those very questions hiding in plain sight. Melania Trump's dress choices hold political weight — even if it's in the most quiet, subtle ways.
To start, the clothing that first ladies wear can speak volumes. They can be used to signify respect for other cultures during trips abroad. They can help promote American designers. They can be used to project their administration's values and brand. And, perhaps most significantly, they can serve as a quiet tool in response to tragedy.
Trump has bucked certain traditions when it comes to her clothing choices as a first lady — and that says a lot.
During a recent 11-day trip to Asia, Trump donned a floor-length Gucci dress for a state dinner hosted by Chinese President Xi Jinping. The ensemble was embroidered with flowers and birds, and was definitely meant to pay homage to her host's country. However, her decision not to wear a Chinese designer is a bit of an unusual one. Kate Andersen Brower, the author of First Women: The Grace and Power of America's Modern First Ladies, told CNN that many first ladies opt to wear designers from the countries they visit. During a dinner with French President Charles de Gaulle, for instance, Jackie Kennedy wore the French designer Givenchy.
"Because their role is so undefined, it's one of the only constants we see throughout modern history," she explained. "Michelle Obama was brilliant at this — she wore an Indian-American designer to the India state dinner, all British designers on a trip to London, and Kenzo in Tokyo."
There is nothing particularly wrong with the fact that Trump didn't decide to wear a Chinese designer. But by neglecting to take that extra step, Trump is setting herself apart from a first lady tradition. She's also missing an opportunity to extend a powerful, respectful hand of diplomacy.
I should add, by the way, that there really shouldn't be pressure put on first ladies to dress a certain way. They shouldn't be judged by their clothing choices — particularly given the fact that no one is saying boo about what their husbands are wearing. Well, unless an outfit included aspects deemed an egregious sartorial gaffe, like when Barack Obama wore a tan suit or Donald Trump taped his tie together. Also, that whole George W. Bush poncho incident.
However, it does seem that some first ladies have used their fashion choices to send (however subconsciously) a message about who they are and what they stand for. Meanwhile, first lady's dresses are specially exhibited by the Smithsonian, literally leaving their legacy in fashion choices.
Melania Trump is not particularly a woman of the people. We know this because the price tags for most of her clothing could probably pay everyone's rent for a year. According to The Sun, all of the clothing Trump wore during the Asia trip was worth about $42,000. She is definitely on a different level than that of the Average Joe American, and she's not afraid to show it. She also clearly cares a lot about her appearance.
For instance, Trump wore a pair of crazy high stilettos when she boarded a plane heading to Texas, after Hurricane Harvey hit. She got a lot, a lot of flak on Twitter for going to the ravaged city wearing a pair of heels. It felt, perhaps, like a symbol of the Trump administration altogether. You know, a group of very wealthy people, who often seem to lack a certain clear perspective when it comes to the lives and concerns of the middle and lower class. Those heels were a simple ensemble choice, but they also spoke volumes about the Trump administration's overall brand and priorities.
This stands in stark contrast to Michelle Obama and the fashion choices she made during her husband's time in office. On Halloween, Obama handed out candy wearing a leather jacket, black jeans and some hoop earrings. She wore J.Crew to the G-20 summit. She got off of Air Force One wearing a plaid shirt and shorts, hair tied up in a bun.
Those choices spoke volumes about both the Obamas as people and the Obama administration as a whole. This was a couple who were going to read scary stories in a really goofy way on the lawn. They were going to dance with a 106-year-old woman when she visited the White House. They were going to fist-bump. This was also, in my opinion, indicative of a couple who cared about the underdog.
So, Trump's clothing choices obviously don't matter in any sort of serious, important way. They can however give a key insight into the woman herself, and the administration as a whole. People can and should wear whatever they want to wear, but if you're gonna wear a $51,500 flower coat, we have to examine the why.