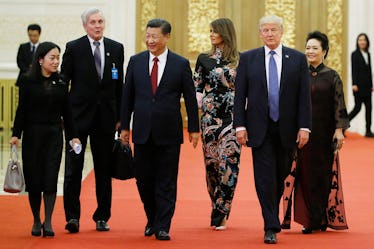 Melania Trump & Michelle Obama's China Visit Dresses Send Totally Different Messages
Pool/Getty Images News/Getty Images
During a state dinner hosted by Chinese President Xi Jinping and wife Peng Liyuan on Nov. 9, First Lady Melania Trump wore a Gucci dress in an apparent nod to her hosts. It's common for fashion to be used as a means of connection between countries during these visits, but when you compare Trump's dress to former First Lady Michelle Obama's dress during the last Obama dinner with the Chinese president, you can see that Trump may have been a little heavy-handed with her sartorial choice.
Trump chose a pink fur-trimmed, black silk number embroidered with flowers and birds— a number which appears to be Gucci's version of a cheongsam, a close-fitting traditional Chinese dress. Her dress is a couture piece that, according to The New York Post, first debuted in Feb. 2016. The Post describes it as "a gown with a Chinese motif and silhouette" — language which speaks volumes.
It's clear that Trump was using her outfit to try to pay homage to her hosts and their country. But Trump's dress reads almost more "costume" than fashion, more caricature than genuine — especially when taking into consideration who made the dress. The gown was made by the Italian fashion house Gucci, which is known in part for its almost cartoonish, "eccentric" aesthetic, and has been accused of cultural appropriation and "diversity drag" several times in the recent past.
Digital beauty editor for Allure Sable Yong wrote about appropriating "culturally Asian garments" in August, and how the resurgence of mandarin collars, kimonos, and, yes, cheongsams reads to her. She wrote that these fashion trends are "costume-like" and "purporting the image of such [appropriation] is alienating and disrespectful to the people whose culture you are taking from."
Considering the fact that Trump has taken a largely symbolic — and quiet — role in this White House, it seems doubly important for her to speak with her clothes.
But there might be a better way to do it.
Pool/Getty Images News/Getty Images
Pool/Getty Images News/Getty Images
Take, for example, the dress former First Lady Michelle Obama wore for a 2016 state dinner with President Xi and wife Peng.
Last year, Obama wore a floor-length black mermaid gown made by American designer Vera Wang. Wang is of Chinese descent and tweeted about the choice, "It is such a privilege, as an American of Chinese heritage, to have dressed first lady Michelle Obama for this state dinner honoring President Xi Jinping and First Lady Peng Liyuan, of the People's Republic of China."
The Wang dress not only smoothed over some reportedly ruffled feathers in the American fashion community, per The Washington Post, but it was also a meaningful nod to the long-standing history between China and the United States, a modern homage to Chinese-American relations. (Obama was learning from her own mistakes — in 2011, she took heat for wearing a dress by British label Alexander McQueen to a state dinner with former Chinese President Hu Jintao.)
Fashion and its relationship to cultural appropriation is a long-standing conversation — one that is bigger than a single dress that Trump happened to wear during a diplomatic trip. For that matter, Trump likely had the best of intentions.
And frankly, this isn't even the first time Trump has worn something over-exaggerated. There was, lest we forget, the Gucci pussy-bow and the pink sleeve-monsters.
But it speaks volumes that in an industry based on exclusivity, whose runways and magazines are still far too white, these mish-mash versions of someone else's culture are being used to make money. There seems to be a connection between a painfully white industry, using, as Yong says, a "culturally Asian" aesthetic for the purpose of making money (without in turn actually accepting that culture) and a painfully white, male administration who many have criticized as being dismissive of people of color.
But perhaps, at the end of the day, a dress is just a dress is a dress.