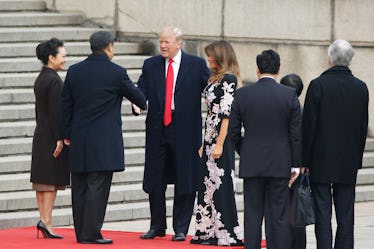 The Cost Of Melania Trump's Clothes On Her Asia Trip Could Pay For A Year Of College
Pool/Getty Images News/Getty Images
The current first lady has long received comparisons to fashion icon — and former first lady — Jackie Onassis, at least as far as her clothing choices are concerned. And Melania Trump's fashion pieces on her Asia trip are more evidence that the former model doesn't mess around when it comes to her wardrobe. So far, after just six days in Asia, Trump's fashion could've paid for a year of college.
Trump left China for the U.S. on Friday, Nov. 10, after arriving in Asia on Nov. 5. She had been accompanying her husband on a tour of China, Japan, and South Korea. Although it was just a few days, this was ample time for the first lady to turn heads. Per The Sun, her pieces on the trip — dresses, shoes and all — totaled a whopping 32,000 British pounds — or a little over $42,000. That's enough to pay for one year at the average American university with money left over to cover room and board.
Inside Edition reports the plum-colored coat Trump wore in South Korea was designed by Jesus Del Pozo and retails for $4,100. Topping off the outfit, Trump rocked a pair of Louboutin heels that retail for $675. Despite the coats' enormous sleeves, it wasn't enough to drive away K-pop star Minho from stopping by for a surprise visit to the first lady during a girls' sports promotion event.
Her red Valentino gown, worn for the state dinner in Japan, was a whopping $4,900, according to Inside Edition. The Fendi coat she wore here came in just behind the gown in price, retailing at $4,800, which is cheap compared to the Emilio Pucci belted coat she donned on another occasion, which is listed for $2,800. The Sun reports the most expensive item on her tour was a dark sequined and lace J. Mendel dress, which she wore at the state dinner in South Korea, would've come in at around $12,500.
Trump's outfit for a state dinner in China, a black silk Gucci number designed to look like a traditional Chinese cheongsam, sent a very different message than did her predecessor Michelle Obama's fashion choices.
While Obama was known for her love of designers like Jason Wu, she was just as known for sporting J. Crew. As a side-by-side comparison by Business Insider shows, the two first ladies have shown remarkably opposite fashion tastes — and willingness to spend big bucks — in their choice of clothing. For example, at the G-7 Summit in the UK in 2009, Fox News reported that Obama's ensemble (minus the shoes) totaled under $500. Compare that to just one piece Trump wore for the G-20 Summit in May this year — a Dolce & Gabbana jacket that cost over $51k — and you'll start to get the point.
According to The Hollywood Reporter, Phillip Bloch, a red-carpet stylist who outfitted Tiffany Trump for inauguration weekend, said that the first lady buys her own clothes. "Melania is buying, but she does not have limited options — she is married to a rich man and can buy whatever she wants!" Designer Michael Kors also seemed to confirm that Trump purchases her pieces out of pocket, calling her "a longtime client at our New York boutique."
Obama's former press secretary Joanna Rosholm said in 2014, according to THR, that Obama paid for her own wardrobe as well. It's unclear if either first lady footed the bill for all their outfits while abroad, however. "For official events of public or historic significance, such as a state visit, the first lady's clothes may be given as a gift by a designer and accepted on behalf of the U.S. government," Rosholm said. "They are then stored by the National Archives." Laura Bush, THR reports, also paid for her own designer pieces while in the White House.
Fashion reporter Elizabeth Holmes, according to CNN, said that Obama "used her personal style to amplify her policy agenda and connect with average Americans," while the current first lady appears to be doing something entirely different with her attire. Some designers, including Sophia Theallet and Naeem Khan, announced prior to the inauguration of Donald Trump that they would refuse to dress Melania Trump given her husband's politics.
Trump donated her inaugural gown, designed by Hervé Pierre, to the Smithsonian in October, adding to a collection of fashion pieces from former first ladies spanning a century.
Whether this week's wardrobe wowed or appalled on the global stage, it gave an idea of how much money the first lady is willing to drop on her clothes. At $42,000 reportedly spent in under a week, we're assuming she's not worried about paying for her son Barron's future tuition.