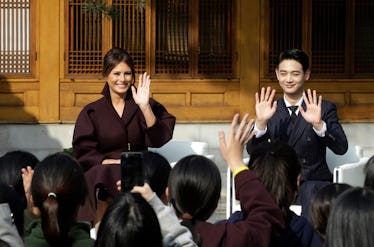 Melania Trump Met A Huge Korean Pop Star & The Internet Is Screaming
Pool/Getty Images News/Getty Images
If there were any hard feelings or doubts about the Trumps' Asia trip, at least one part of the visit's South Korea leg might've quelled some fears. A video of Melania Trump and Shinee in South Korea went viral on Tuesday, Nov. 7 after Choi Min-ho, aka Minho, made a surprise appearance at an event where the first lady was speaking.
Melania Trump was attending the "Girls Play 2!" campaign event at the U.S. ambassador's residence in Seoul, the Associated Press reports, to give a speech about the importance of giving girls equal access to sports. The event was promoting girls' participation in sports and the upcoming Winter Olympics in Pyeongchang in February 2018. President Trump and South Korean President Moon Jae-in were occupied attending a summit.
At the time the video was captured, Melania Trump appears standing next to a group of school girls in uniform on a field. But attention was quickly diverted from the first lady when Minho, looking classy in a suit and tie, quietly appeared behind them. One girl pointed out the superstar behind another girl. When they realize it's really him, the girls began screaming and clapping, while Trump watches with a big smile. The heartwarming video went viral, and it's not hard to see why.
Minho, 25, is an actor and one of the five members of ultra-popular K-pop band Shinee (pronounced like "shiny"), known as much for its dance ability and edgy fashion as for its catchy music. The group, which has been together for a decade, toured in the United States earlier this year.
Check out the scene here:
The two girls in front are all of us trying not to lose it over our celeb crushes.
Most of us never get closer to Hollywood hotties than the TV screen. All this girl had to do was turn around.
People were especially receptive to Trump's warm, smiling greeting to Minho. Many also made jokes about the duo sitting and standing together during the event. One user tweeted, "obama and taemin who? i only know minho and melania," referring to another Shinee band member. "Melania looks so happy sitting next to minho ... more than she's ever looked next to her husband," another said.
One user suggested they'd be a cute couple, writing, "Now I'm shipping Melania-Minho, they look cute together."
It was a precious moment, to say the least.
Lots of users poked fun at the incredible shift in the girls' reactions, suggesting that the girls were clearly way more excited to be standing next to Minho than Melania.
You have to give it to him: Minho looks surprisingly calm and modest considering he's the subject of an intense on-camera freakout.
It's not entirely clear why the K-pop star decided to drop in on the diplomatic event, but it appears that Minho hung around to at least have a chat with the first lady.
The AP reports that South Korean Twitter users also gave big points to Trump for how she handled the whole thing (and even appeared to have some fun with it).
"She smiles a lot, speaks well and is so kind to the teenagers," one Twitter reportedly said. Another chimed in, noting the first lady's mood: "I saw her smiling like that for the first time."
It was a notable departure from just a day ago, when Twitter was erupting over the video of Donald Trump feeding koi fish in Japan with Prime Minister Shinzo Abe. What should've been a run-of-the-mill welcome ceremony turned into a press-frenzied fiasco when President Trump was shown on camera dumping an entire box of fish food into the pond at once. (Turns out he was following Abe's lead.)
We can only hope things went as swimmingly with Trump and the South Korean president over at the summit.