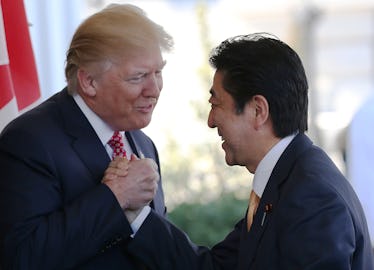 The Story Of Trump Overfeeding Koi Fish In Japan Is Actually Fake News, For Once
Mario Tama/Getty Images News/Getty Images
President Donald Trump began his 12-day tour of five Asian countries with controversy — but not the kind you'd think would befall him. People were crying foul and the term "Koigate" resounded on Twitter after video of Trump feeding koi fish in Japan showed him dumping the whole box of fish food into the koi pond. While people freaked out over the president's actions, it turns out it's not the whole story.
The president was in Japan visiting with Prime Minister Shinzo Abe on Monday, Nov. 6 when the pair visited the Akasaka Palace koi pond. It was part of a welcoming ceremony, NPR reports, and it's a tradition for high-status foreign guests like Trump to feed the fish. In what could've been the Nth volume of "President Trump's Overseas Bungles," Trump actually didn't fumble this one. Instead, he was following Abe's lead.
It appears that the video everyone was freaking out over initially was edited. The original, unedited version shows Abe shaking his box of food. Then, Trump follows suit and dumps his whole box upside down.
All day Monday, people had been sharing videos and stills of Trump and Abe feeding fish. A photo taken by an AP photographer captured the exact moment Trump offloaded the entire contents of his box at once into the pond below, while Abe stood next to him, watching in what one Twitter user describes as "polite horror-rage." People began sharing worried messages about the dangers of overfeeding koi fish as articles began popping up all over news sites about the feeding incident. (Making a journalistic error isn't a laughing matter, but the tweets about the incident are admittedly pretty funny.)
Some drew a parallel to how Trump often compares his actions to that of his predecessor.
One user got in a dig making reference to his well-known love of golf.
In response to the gaffe, Fox News came back with its own article condemning the media bias and "liberal CNN" for its "ridiculous" headline in a not-so-thinly-veiled reference to "Fake News," one of Trump's favorite bashing points on Twitter.
Fox News was referring to CNN reporter Veronica Rocha, who Monday wrote an article, complete with CNN-produced video, showing the president's visit with Abe and the two feeding the fish. Both the video and article show and describe Trump dumping the food out following Abe's lead.
But just as quickly as Koigate became a thing, people were shutting it down.
Still, it's small potatotes compared to other diplomatic faux pas by the Trump entourage while abroad. Surely the internet hasn't let him live down the supposed hand swat by Melania Trump while the couple were in Tel Aviv in May. Or the supposed hand avoidance while the couple were in Rome (the next day). Or any of his greetings and handshakes with foreign dignitaries that are just too much to handle. (Case in point: Vladimir Putin, Emmanuel Macron, Macron's wife Brigitte, even Abe himself — see where I'm going with this?)
So if all the bad press about this was just over feeding the fish, it's not so bad. It's nothing compared to reportedly giving Russia highly classified intel, threatening North Korea (repeatedly), saying he wants Mexico to pay for the border wall, and falsely stating that South Korea used to be part of China.
Personally, if I had to choose one story that ended up being "fake news," I'd pick any of the cringe-worthy or downright terrifying things above (like Norea Korea) over indulging a few koi fish in Japan. At least the koi fish aren't loaded with a nuclear arsenal (that we know of).