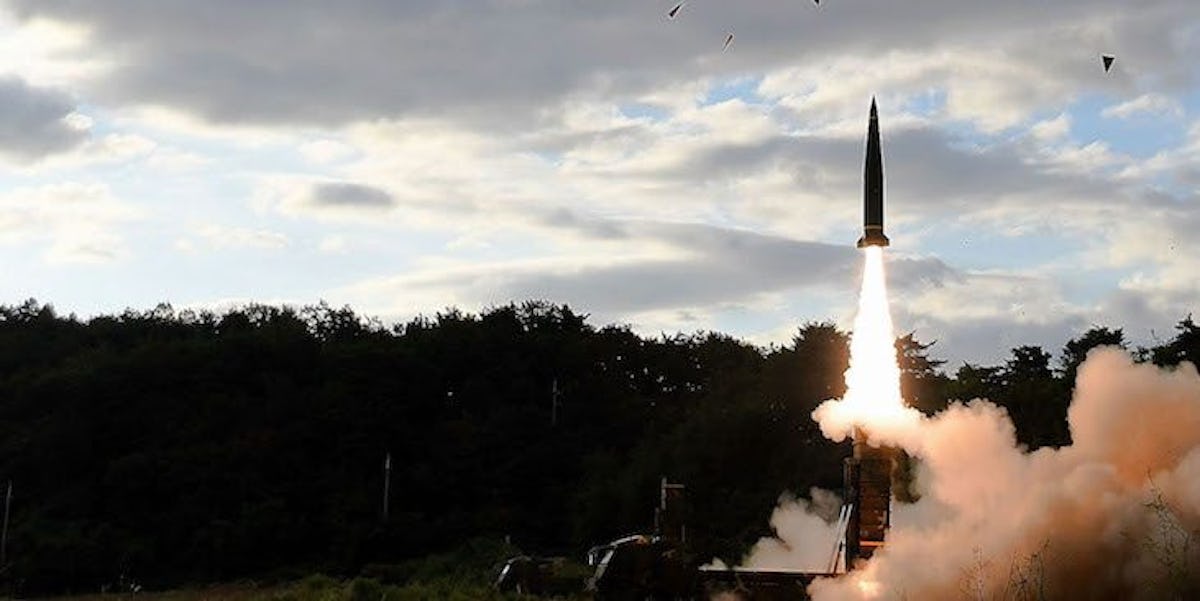 North Korea Is Threatening To Test Nukes In The Pacific After Trump's UN Speech
South Korean Defense Ministry via Getty Images
Donald Trump's fiery speech about North Korea at the United Nations is coming back to bite him, and the rest of us by association. North Korean leaders responded to Tuesday's speech on Sept. 21, sharing a rare first-person statement from leader Kim Jong-un as well as a worrisome statement from foreign minister Ri Yong-ho, in which he suggested that North Korea could test nuclear weapons in the Pacific Ocean. So, uh, this isn't going well.
Ri, who was meant to address the UN General Assembly on Sept. 22 but has dropped out of his speaking slot, told reporters in New York that the country might consider testing their biggest nuclear weapon in response to Trump's military threats, according to CNN. He did, however, hedge his bets slightly: he said that the ultimate decision was Kim's. Ri said,
This could probably mean the strongest hydrogen bomb test in the Pacific Ocean. Regarding which measures to take, I don't really know since it is what Kim Jong-un does.
And Kim doesn't seem too thrilled with the United States at the moment. Earlier on Thursday, the North Korean leader released an ominous statement aimed at Trump, in which he called the president "a frightened dog" and a "dotard," an old fashioned word meaning a weak or senile old person.
The statement was also rife with open threats. It said in part,
I will make the man holding the prerogative of the supreme command in the U.S. pay dearly for his speech calling for totally destroying the DPRK. This is not a rhetorical expression loved by Trump. ... Whatever Trump might have expected, he will face results beyond his expectation. I will surely and definitely tame the mentally deranged U.S. dotard with fire.
Soooooo, we're not getting along then.
I make light, but when you have two leaders that seem bound and determined to needle each other to the brink of nuclear war, it's that or cry. And I have a nuclear fallout shelter to start building, I don't have time to break out the waterworks.
Kim's statement is in response to Trump's aggressive speech at the UN General Assembly on Sept. 19, in which Trump called the North Korean leader "Rocket Man" and stated outright that the U.S. would "totally destroy" North Korea if they didn't cease their threats toward the United States and its allies. Trump said,
The United States has great strength and patience, but if it is forced to defend itself or its allies, we will have no choice but to totally destroy North Korea. Rocket Man is on a suicide mission for himself and for his regime.
It's the latest in a series of escalations between the two leaders over the past six weeks or so. On Aug. 8, Donald Trump said that any threats from North Korea would be met with "fire and fury," to which North Korea responded by leveling threats at Guam, a U.S. territory and military base in the Western Pacific, and escalating tests of nuclear weapons it claims can reach the U.S. mainland. In turn, Trump delivered his combative UN speech, and on Sept. 21 imposed new financial sanctions on the nation, per The Washington Post.
Whether either nation will follow through on their military threats? Who knows.
Thankfully, despite all the bluster, there's as yet been no active strikes towards either country. But considering Trump, at least, has reportedly asked several times why the United States can't use nuclear weapons (the short answer, Don? Nuclear war), things are getting a bit tense.
So. If you want me, I'll be in my basement, lining the shelves with canned food and prepping my water filtration system. Anyone know what a lead-lined door runs for these days?