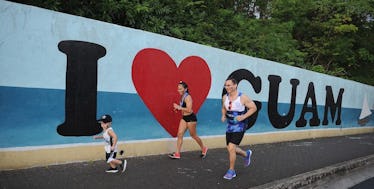 North Korea Just Threatened Guam After Trump's Warning: Here's What To Know
Matt Roberts/Getty Images for GUAM VISITORS BUREAU
It's 2017, and people are worried about nuclear war. After a troubling report about North Korea's nuclear ability on Aug. 8, followed by President Donald Trump's fiery threat about a possible American response, more concerns are emerging. According to reports based on state news, North Korea said it might attack Guam, an American territory in the Western Pacific.
North Korea is reportedly "carefully examining" a plan to strike Guam with missiles, CNBC reported on Tuesday evening, citing statements made by state-run media in the small nation. One report said that North Korea could take preemptive action if the U.S. "showed signs of provocation."
The reports come hours after President Trump issued an aggressive warning from his golf course in Bedminster, NJ. "North Korea had best not make any more threats to the United States. … They will be met with fire and fury like the world has never seen," he said. "They will be met with fire, fury, and frankly power the likes of which this world has never seen before."
Many were concerned about the saber rattling, and sure enough, North Korea came back with a counter threat, eyeing Guam.
So, what do we need to know about Guam? Here's what to keep track of.
Guam is a small U.S. territory in the South Pacific with significant strategic value.
Guam, a small island which is located in Micronesia, 1,500 miles east of the Philippines (and about 1,800 miles southeast of the Koreas), is a hub for U.S. interests in the region. For one thing, it's the United States' most westward territory, close to the South China Sea and the Korean Peninsula. In 2012, deputy defense secretary under President Obama, Ashton B. Carter, called the island "an important strategic hub for the U.S. military in the Western Pacific."
The BBC also calls the island a "vital staging point for U.S. operations," noting that it has direct access to significant areas like the South China Sea and the Taiwan Straits, as well as the Koreas.
As a U.S. territory, its more than 160,000 residents are U.S. citizens by birth. However, they don't have the right to vote in presidential elections.
It's home to a major U.S. military presence.
There are approximately 6,000 US military troops on Guam, and the tiny island boasts two separate military bases: Naval Base Guam and Andersen Air Force Base. There are also plans to expand the number of troops, per The Atlantic — the military presence is expected to double in the next ten years.
Currently, almost a third of the island is directly controlled by the U.S. military, according to the Australian Broadcasting Corporation. That's impressive for a piece of land that's only about three times the size of Washington D.C.
This isn't the first time North Korea has threatened the territory.
In 2013, the Pentagon moved additional forces to Guam after North Korea threatened to attack targets in the United States and South Korea, per the BBC. The Department of Defense also set up a land-based missile defense system, despite predictions that North Korea didn't have the technology to follow up on its threats to the continental United States.
However, at only about 2,100 miles from the North Korean capital of Pyongyang, Guam could now well be within range of any attack, particularly after reports that North Korea has developed a missile-ready nuclear weapon.
But defense of the tiny island is stepping up. On Aug. 7, the United States joined with Japanese and South Korean allies to fly bomber jets over Guam in a show of force according to a U.S. Pacific Air Forces press release.
So, Guam is covered. At least for now.