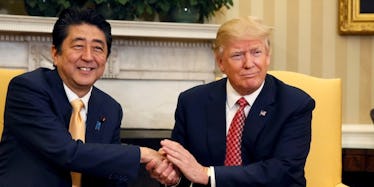 Trump's Awkward Handshake Fail With Japan Prime Minister Has Internet In Tears
REUTERS
President Donald Trump met with Japanese Prime Minister Shinzo Abe on Friday, February 10, and the internet is cringing over his epic handshake fail with the foreign leader.
This might've been the longest handshake of all time.
Handshakes are like breakups: You need to know when to let go and move on with your life.
Maybe he was trying to overcompensate for his tiny hands?
How does one say "awkward" and "please release the prime minister" in Japanese?
The Japanese prime minister was a good sport about it, though.
To be fair to Trump, the photographers definitely played a role in this excessively long meeting of hands.
But the internet has not yet recovered.
Trump could definitely learn a thing or two from Senator Bernie Sanders.
This is not the first time America's new president has struggled to give a handshake.
Obviously, there are more important topics to focus on, but Trump clearly needs some help in this department.
Fortunately, for the sake of US-Japanese relations, it seems the rest of the meeting went well.
The president is not known for being the most diplomatic figure in the world, but he was very friendly with Prime Minister Abe.
The two leaders, who previously met in New York in November after Trump won the election, seem to be getting along fairly well.
Trump said the partnership between the US and Japan is the "cornerstone of peace" in the Pacific, stating the US is committed to Japan's security.
Abe is the second foreign leader Trump has met with since becoming president.
He recently met with British Prime Minister Theresa May, who came to the White House in late January.
On Monday, February 13, Canadian Prime Minister Justin Trudeau is set to meet with the president.
Let's hope the handshake lasts for a significantly shorter period of time.
Citations: Amazingly, Donald Trump still doesn't know how to shake a hand (Mashable)