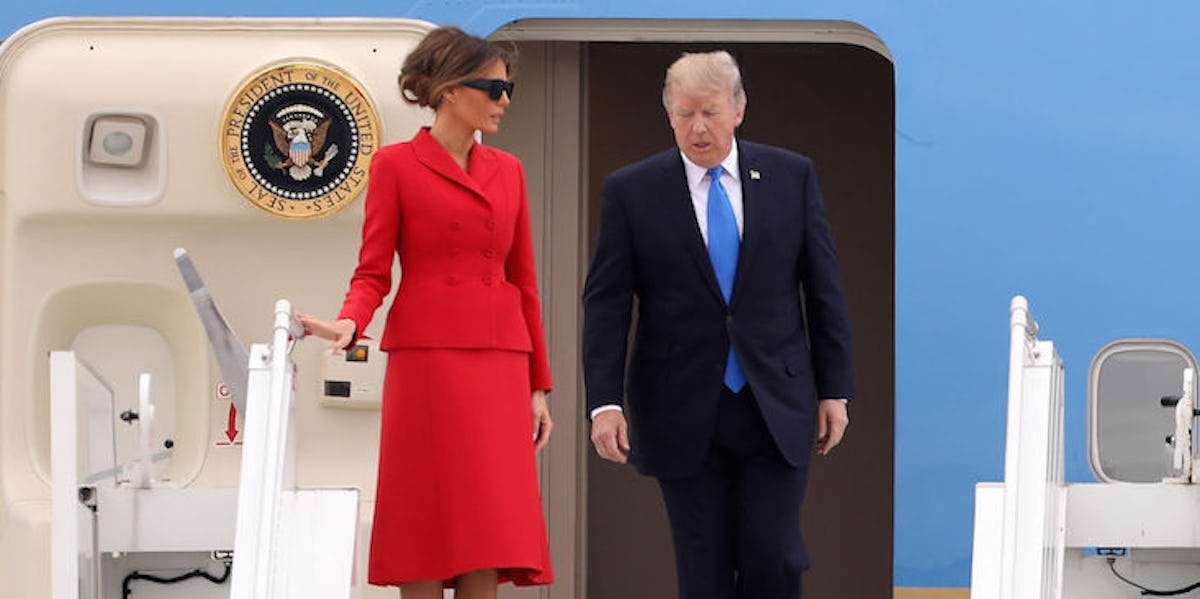 Trump Yanked France's First Lady's Arm In A Handshake, Because Of Course He Did
Pierre Suu/Getty Images
It's like a bad refrain at this point: President Donald Trump is going to meet a foreign leader, so you know there's going to be a weird handshake.
This time around, France's first lady Brigitte Macron was on the receiving end of Trump's awkward handshake.
You can see it in all its terrible glory here:
Brigitte Macron is the wife of French President Emmanuel Macron, who was elected in early May.
To be fair to the president, this time around, it wasn't exactly a handshake. Rather, Trump was greeting the first lady on Thursday, July 13, and grabbed her right hand with his left hand.
And that's when things got, just, uh, so strange.
Trump is holding Macron's hand as he talks, and then he starts gesticulating -- while still holding onto her hand. So her arm gets visibly pulled. It's weird.
Trump and Macron have been seen as sort of adversaries. Trump and President Macron disagree on a variety of topics, including climate change, Russia, and the treatment of Muslim people.
At the end of May, Trump and President Macron met in Brussels. That time around, Trump gave President Macron a notable handshake.
In spite of their differences, President Macron invited Trump to France to celebrate Bastille Day, France's national holiday. Bastille Day is recognized on July 14 every year with fireworks, a military parade, and parties.
So now, President Trump is in France along with first lady Melania Trump.
And on Thursday, July 13, people definitely noticed the president's hand-grab of France's first lady.
Twitter was quick to comment about the arm shake.
Trump's handshakes -- and other instances of hand-grabbing and body language -- have been under intense scrutiny since his inauguration. This is mostly because his handshakes, which should just be regular, normal things, have instead pretty much all looked just... odd.
Trump had a remarkable handshake with German Chancellor Angela Merkel, Canadian Prime Minister Justin Trudeau, and Japanese Prime Minister Shinzo Abe. Last week, a highly anticipated handshake with Russian President Vladimir Putin was viewed as all about "power," according to a body language expert.
Basically, at this point, it's unclear if Trump knows how to shake hands like a normal person.