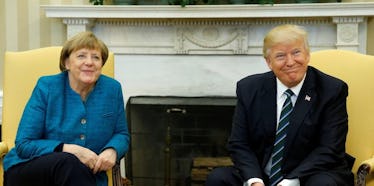 Trump Just Took The Awkward Handshake To New Heights With Angela Merkel
REUTERS
President Donald Trump and German Chancellor Angela Merkel met on Friday, March 17, and it was profoundly awkward.
Merkel has essentially emerged as the leader of the free world since Trump took office.
She's been extremely welcoming toward immigrants and refugees, and she's often the voice of reason on a wide array of issues.
At one point, she actually lectured Trump on the Geneva Convention in relation to his stance on refugees.
Moreover, during his campaign, Trump accused Merkel of "ruining Germany" for being so open to accepting refugees.
So, it's not all that surprising the two weren't entirely thrilled to hang out.
Trump has a history of being terrible at handshakes, and he took it to new heights with Merkel.
Look, there are definitely more important things to focus on than how Trump conducts handshakes with various global leaders. But the man habitually screws it up, so it's hard to ignore.
He had an abnormally long handshake with Japanese Prime Minister Shinzo Abe, for example, and also tried to be way too masculine when he shook hands with Justin Trudeau.
With Merkel, the president just decided not to shake her hand at all.
Trump just straight-up ghosted Merkel when she asked for a handshake.
Merkel leaned in and asked Trump, "Do you want to have a handshake?"
The president proceeded to sit there like a child in time-out with his hands between his lap.
Perhaps he didn't hear her, or perhaps he was actually trying to be rude.
Given Trump is notoriously vindictive, it wouldn't be surprising if this was a deliberate slight.
He's not one to take insults or challenges lightly.
It appears US-German relations are poised to decline in the era of Trump.
Comparatively, Obama and Merkel were basically BFFs.
Things have definitely changed since Trump became president. Bigly.
Citations: Trump Refuses to Shake Hands With Angela Merkel, and It's Very Awkward (New York Magazine)