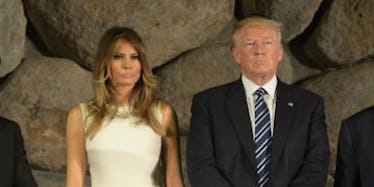 Melania Trump Appears To Avoid Holding Donald's Hand Again — VIDEO
Getty Images
Melania Trump appeared to avoid holding Donald Trump's hand for the second day in a row.
This time, it happened when the couple arrived in Rome, Italy on Tuesday afternoon. They stepped outside of the presidential plane.
Just outside the door, as they were starting to walk down the stairs to the tarmac, Donald reaches his hand out towards Trump.
At that moment, the first lady reaches her hand up to pull her hair back from her face.
You can see it all go down here:
After arriving in Tel Aviv, the Trumps walked down the tarmac along with Israeli Prime Minister Benjamin Netanyahu and his wife, Sara.
Again, Donald appears to reach towards Trump, and she appears to swipe at his hand. His hand then moves away from her, quickly.
Again, I want to emphasize that this moment caught on tape does not tell us anything about anything.
We learn nothing about the Trump's marriage by seeing them not hold hands.
There could be any number of explanations for what happened. Again, we don't know if Donald was reaching for her hand or if Trump knew it was happening and moved her hand because of that.
It is not fair to make speculations about a relationship based on one (or two) odd-looking moments.
There has been some speculation based on hand-holding that Donald is afraid of stairs.
The president and first lady were about to step down the stairs to the tarmac.
This speculation, mind you, has largely been mocked.
But the speculation came because of another hand-holding incident.
Earlier this year, Donald held the hand of United Kingdom Prime Minister Theresa May as they walked through the White House. It was strange.
May said he was acting like "a gentleman" in case she had trouble walking down a ramp, but rumors spread that he did it to help himself. These are just rumors.
The Trumps are completing their first foreign trip since entering the White House.
So far, they have been to Saudi Arabia and Israel.
The president will be meeting with Pope Francis in Italy before heading to a NATO meeting in Brussels. From there, he'll go back to Italy, where he's attending a Group of 7 meeting in Sicily.
Ivanka Trump has also been accompanying her father on the trip.
Citations: Theresa May Gives Her Perspective on That Awkward Hand-Hold with Donald Trump (Vanity Fair)