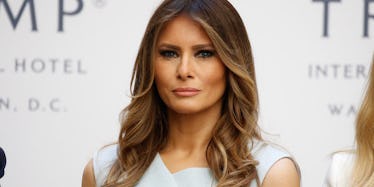 Michelle Obama's Designer Writes Bold Letter Refusing To Dress Melania Trump
Reuters
Throughout Donald Trump's presidential campaign, the president-elect angered many people with his controversial beliefs, sexist comments and xenophobic remarks.
However, the incoming president isn't the only one in the Trump family who has managed to burn a lot of bridges over the past year.
Earlier in the year, Donald Trump's wife Melania found herself caught in the middle of a stolen speech scandal, while his daughter Ivanka received a lot of backlash for shamelessly promoting her jewelry line during her appearance on "60 Minutes."
Since scandal seems to follow this family wherever they go, it should come as no surprise that some people want nothing to do with the Trump family.
And I'm not just talking about the politicians who don't want to work in the Trump administration, either.
It appears some people in the fashion realm are also standing up to the Trumps... namely Michelle Obama's designer Sophie Theallet.
That's right.
On Thursday, Sophie Theallet posted an announcement on Instagram. The bold designer wrote a letter in which she refused to dress Melania Trump.
Theallet starts off the letter by talking about her philosophical beliefs and the image of her fashion brand. She states,
The Sophie Theallet brand stands against all discrimination and prejudice. Our runway shows, ad campaigns and celebrity dressing have always been a celebration of diversity and a reflection of the world we live in.
She then goes on to say the decision to refuse service to Melania Trump has nothing to do with money, but rather her integrity and personal beliefs as an artist.
Theallet continues the letter by writing,
As an immigrant myself in this country, I have been blessed with the opportunity to pursue my dreams in the USA. Dressing the First Lady Michelle Obama for the past 8 years has been a highlight and an honor. She has contributed to having our name recognized and respected worldwide. Her values, actions and grace have always resonated deeply within me.
The fashion designer then expressed her thoughts about the incoming Trump administration.
As one who celebrates and strives for diversity, individual freedom and respect for all lifestyles, I will not participate in dressing or associating in any way with the next First Lady. The rhetoric of racism, sexism and xenophobia unleashed by her husband's presidential campaign are incompatible with the shared values we live by.
Theallet concluded her bold letter by encouraging other designers to follow in her footsteps because "Integrity is our only true currency."
While there's no telling if other fashion designers will join Theallet and blacklist the Trump family, you have to give this inspiring woman credit for staying true to herself and standing up for her beliefs.
Citations: Sophie Theallet Refuses to Dress Melania Trump in Open Letter to the Fashion Industry (Teen Vogue)