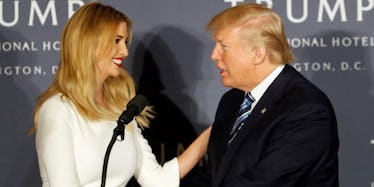 People Are Shaming Ivanka Trump For Already Using Her Dad's Win To Sell Clothes
REUTERS
In case you missed it, Donald Trump brought his family along for his first TV interview as president-elect on "60 Minutes" Sunday night.
During the surreal interview, his daughter Ivanka Trump made it clear she was not interested in being employed in her father's administration during his time in office. However, people are beginning to think she might have a hidden agenda... and her fashion line is most certainly involved.
After Sunday's interview, an employee at Ivanka's jewelry line blasted "Style Alert" emails to journalists. These emails advertised the $10,800 bracelet Ivanka was wearing during the CBS program.
New York Times reporter Katie Rosman posted the email she received on Twitter.
She said the email was "hawking the goods she wore on '60 Minutes.'"
Another NYT reporter, Eric Lipton, tweeted a photo of the press release he and other journalists received, DailyMail.com reports.
Here's a better look for those of us who didn't get the email:
As you could have probably predicted, people aren't very happy with Ivanka. They believe she's using her father's publicity to promote her own business.
Ouch. I definitely wouldn't want to be the PR person for Ivanka Trump Fine Jewelry right now.
In an effort to ease the tension caused by Ivanka's assumed ulterior motives, Abigail Klem – the president of Ivanka Trump's brand – shared a few defensive words.
Apparently, she talked to DailyMail.com and said,
This notification was sent by a well-intentioned marketing employee at one of our companies who was following customary protocol, and who, like many of us, is still making adjustments post-election. We are proactively discussing new policies and procedures with all of our partners going forward.
This isn't Ivanka's first time using presidential publicity to promote her fashion brand, though.
Back in July, the president-elect's daughter used Twitter to advertise the dress she wore at the Republican National Convention, which allegedly cost $138.
Ivanka: You're a businesswoman, and I respect that. But you probably shouldn't use your father's new status for your own profit and success.