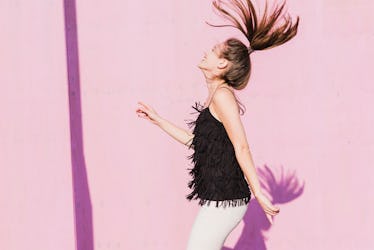 TikTok's Album Cover Challenge Is Full Of LOL-Worthy Hair Flip Fails
Westend61/Westend61/Getty Images
If Taylor Swift's Fearless (Taylor's Version) taught you anything, it's that flipping your hair for an album cover is the move. It's both timeless and effortless — or so you would think. The TikTokers trying out the album cover challenge on TikTok would likely tell you that it's easier said than done. The funniest album cover challenge TikToks are actually filled with #fails and LOL-worthy moments.
The album cover challenge started with the release of the TikTok's album cover effect. This effect essentially works like a camera's self-timer and gives you five seconds to pose for a stunning pic. Some users have used it to prove that anything can be a cool album cover, from sight-seeing spots in Japan, to a selfie with a film camera, and a blank wall with a little bit of sun. Others have used it to make the opposite point, saying that not everything looks artsy in the square frame.
The hair flip "section" of the album cover TikTok challenge is a whole different, hilarious ball game. It began with TikToker @processorprod and turned into an actual obstacle that TikTokers are determined to get through. If you try it out for yourself, just be warned: You will likely fail before you succeed. The fails will ultimately make you laugh out loud, though, and wonder how Taylor Swift made hair flips looks so effortless.
Here are the best and funniest album cover challenge TikToks yet: