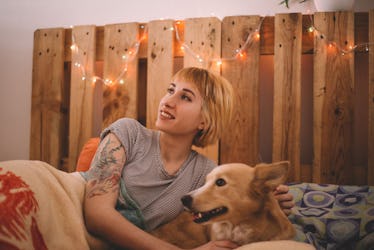 The First Time I Stood Up To My FOMO & Stayed In For The Night, These 6 Things Happened
Mosuno, Stocksy
See you never, FOMO. At least that's what you'd like to say, right? You imagine yourself texting in the group chat, removing yourself from tonight's plan, and not getting that overwhelming sense that you're missing out on something. (Ugh, one can dream.) Well, guess what: The first time I stood up to my FOMO and stayed in for the night, a few things happened. Spoiler alert: It really wasn't so bad.
Here's the thing about FOMO. It's just a feeling, but one that can send your mind and body into this weird form of anxiety. You stop listening to your gut or what you really want, and let the thought that something fun may happen without you totally takeover. Honestly, it's exhausting just thinking about it — let alone embracing it and then pretending to be excited about going out on the town, when you really just want to be relaxing at home.
The second I realized everything I was feeling was just FOMO, I decided to change my lifestyle and mindset a bit. Why did I want to do anything that wasn't making me or someone else one hundred percent happy? What would truly happen if I stayed in for the night, instead of forcing myself to #rally? Would my friendships change that much based on one night? Finding the answers to all of those questions was a little adventure in itself, and if you stand up to your FOMO, these six things may very well happen for you, too.