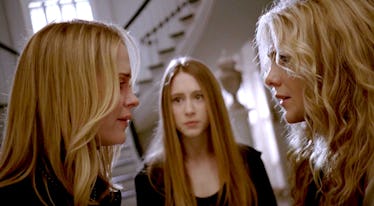 The First 'AHS: Apocalypse' Photo Of Stevie Nicks, Sarah Paulson, & Lily Rabe Is Magical
FX
Can you feel the magic in the air, American Horror Story fans? After nearly five years away, the coven has finally reconvened for the new season of Ryan Murphy's horror anthology series, and none other than Stevie Nicks is at the center of all the supernatural power. Murphy just revealed a new AHS: Apocalypse photo of Stevie Nicks, Sarah Paulson, and Lily Rabe that will get all of the Coven fans totally pumped for the new season.
For the past several months, Ryan Murphy has slowly been confirming that the witches from American Horror Story: Coven would be making their return in the upcoming season, Apocalypse. Back in June, we first learned that Apocalypse would be the crossover season between Murder House and Coven that AHS fans had been speculating about for a few years. As we have gotten closer and closer to the Apocalypse premiere date, the coven began to reform — first, Emma Roberts confirmed she would return as Madison Montgomery, then Sarah Paulson said that she will be bringing back Cordelia Goode for the new season, in addition to also playing her Murder House character Billie Dean Howard and a new character named Venable. Finally, Murphy filled out the coven by confirming Taissa Farmiga, Lily Rabe, Gabourey Sidibe, Frances Conroy, and Stevie Nicks would also be reprising their witchy Coven roles.
And now, we are getting our first look at the coven back together again. Over the weekend, Murphy shared a shot of Sarah Paulson, Lily Rabe, and Stevie Nicks in their Coven characters for AHS: Apocalypse.
But the bewitching congregation was not done just yet. Murphy also shared a photo with the rest of the Coven witches all together again: Emma Roberts, Taissa Farmiga, Gabourey Sidibe, and Frances Conroy jumped in to complete the second picture.
The new photo confirms the return of nearly every witch from the Coven season of American Horror Story. Only a few notable witches do not seem to be making an appearance in Apocalypse: Jamie Brewer's telepathic witch Nan does not seem to be making a comeback, and Angela Bassett confirmed that her voodoo queen Marie Laveau is not part of the new season. And then of course there is also Jessica Lange's Fiona Goode. Although Lange is confirmed to appear in AHS: Apocalypse, she will apparently only be playing her Murder House character Constance Langdon.
So, now we know that pretty much all of the Coven witches will be back for American Horror Story: Apocalypse, but the question now is how these powerful women will be part of the world-ending new story of Season 8. The plot of the new season is, of course, being kept totally under wraps, but since demonic babies have been playing a big part in the promo teasers and posters and Ryan Murphy confirmed that Cody Fern will portray an adult version of the Murder House antichrist Michael Langdon, most fans are pretty sure that we will see Michael Langdon harness his satanic powers to bring about the apocalypse. But will the coven reconvene to stop Michael... or to help him?
American Horror Story: Apocalypse will premiere on FX on Sept. 12.