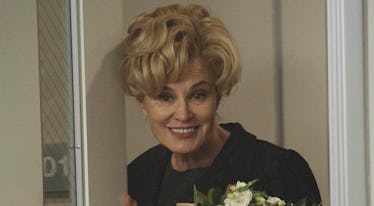 Jessica Lange Will Star In 'American Horror Story: Apocalypse' As A Familiar Character
FX
One of American Horror Story's most beloved stars is finally making her return to the franchise in the upcoming eighth season. After months of fans picking apart mysterious details about AHS Season 8, all of our demonic prayers have finally been answered, because Jessica Lange will star in American Horror Story: Apocalypse, Lange's costar Sarah Paulson confirmed over the weekend.
The exciting casting news came from American Horror Story's Television Critics Association panel over the weekend, in which Sarah Paulson dropped the confirmation that fans of the horror anthology series have been waiting months for: Jessica Lange is back. Lange will be reprising her Murder House role of Constance Langdon in the upcoming Apocalypse season, and even better, Paulson said that she will be making her directorial debut in the episode that marks Lange's return:
I have the great pleasure of letting you all know, yes, she will be back. Jessica will be returning as Constance in an episode I'm going to direct.
The fact that Jessica Lange is reprising her role as Constance Langdon should not come as much of a shock to fans who have been keeping up with the news about AHS Season 8. A couple of months ago, Ryan Murphy confirmed that the new season will be a crossover between the Murder House and Coven seasons, with a handful of characters from Seasons 1 and 3 returning. From Paulson's comment, it sounds like Lange will only be reprising her Murder House role of Constance Langdon and not bringing back her supreme witch Fiona Goode from Coven. Other confirmed returnees from those earlier seasons include Emma Roberts' Coven character Madison Montgomery, and both Sarah Paulson's characters Billie Dean Howard from Murder House and Cordelia Goode from Coven. Paulson will also play a new character named Venable.
The confirmation that Constance Langdon is returning also helps to fill in a bit more details about the plot of American Horror Story: Apocalypse. Ryan Murphy recently confirmed that American Crime Story actor Cody Fern was joining the Season 8 cast in the part of a grown-up Michael Langdon. As fans recall, Michael Langdon was the antichrist born at the end of Murder House, whom Constance took from the Harmon family and raised herself. We last saw Michael as a child, creepily showing off his blood-splattered hands to his adoptive mother.
Since the theme of the new season is Apocalypse, we can bet that Constance and Michael are going to play a pretty big role in bringing about the end of the world.
The Season 8 cast present at the TCA panel also announced the names of the new characters they will be playing in AHS: Apocalypse: Kathy Bates' character is named Miss Meade, Billie Lourde is playing Mallory, Leslie Grossman is the ostentatiously named Coco St. Pierre Vanderbilt, and Adina Porter will play Dinah Stevens. FX also picked up American Horror Story for a tenth season over the weekend, meaning the series won't be going anywhere for quite some time.
American Horror Story: Apocalypse will premiere on FX on Sept. 12, 2018.