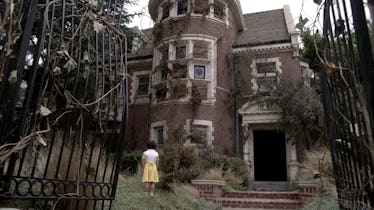 'American Horror Story' Season 8 Will Be A Crossover Between These Two Seasons & I'm Unwell
FX
When Ryan Murphy introduced the world to the anthology series American Horror Story in 2011, there was no guarantee the show would work. Murphy was best known for his work on Glee over on neighbor channel FOX, and the transition to a totally different genre, and an anthology series (which were not a standard go-to at the time) made fans nervous. But the first season was such a hit, Murphy retroactively titled it "Murder House" and has promised the show will eventually tie back to it. Now with American Horror Story Season 8, he's making good on his word.
For those who thought Ryan Murphy was heading to Netflix this summer, you're not mistaken, he is. Starting in July, all new series he comes up with will be produced by his new streaming partner. But this doesn't mean his other shows will disappear. American Horror Story, in particular, is already renewed through Season 9 in 2019, and Murphy will remain a hands-on participant in the shaping and direction of the show.
Speaking of Season 9, most fans thought it would be next season which would bring the show back to its original roots and the Murder House, following Murphy's suggestion it would back in 2016. But that was before Murphy's announcement this week.
Check out the tweet:
American Horror Story: Coven was the third season of the show. Like Murder House, it was set in present day. (Season 2, subtitled Asylum, was one of two seasons that were period pieces and was set in 1964.) Supposedly, Season 8 will be set in the near-future, in October of 2019.
Murder House followed the adventures of the Harmon family, who move to Los Angeles from Boston, accidentally moving into a house full of ghosts from various murders that took place on the property since it was built 90 years prior. Coven was set in New Orleans at a school for the descendants of the survivors of the Salem witch trials, to keep their ability and their bloodline safe.
Murphy has already promised Sarah Paulson, Evan Peters, and Jessica Lange would be part of the headlining crew for the upcoming season. But this was before he decided to bump up the Murder House-Coven crossover by a year, so leaked details of their characters are probably out the window. Kathy Bates is also booked for this season. She was not in Murder House, so fans assume she'll be reprising her Coven character serial killer Delphine LaLaurie.
Murphy has built up a stable of actors who he works with over the course of the different stories, and some of the castings could bring about interesting crossovers. Actress Taissa Farmiga, for instance, played the teenage daughter of the Harmons, Violet, in Murder House. Two seasons later, she was the lead in Coven, playing the Zoe Benson, a girl who learns of the existence of witches only after her boyfriend dies a violent death and she's sent to the New Orleans school for her own safety. She was not originally booked for Season 8, but bringing her back seems almost a no-brainer.
Evan Peters played Farmiga's love interest in both seasons, as Kyle Spencer in Coven, and Tate Langdon in Murder House. Like Farmiga, the possibilities of interchanging the characters, or having them meet, would be madness and viewers hope Murphy will just give in to the temptation.
Jessica Lange also played multiple roles between the two seasons, starring as Fiona Goode in Coven, and Constance Langdon in Murder House. Likewise, Sarah Paulson played two different characters, as Headmistress Cordelia Foxx in Coven, and Billie Dean Howard in Murder House a character who then went on to appear in Season 5 (subtitled Hotel) as well.
American Horror Story: Murder House x Coven will arrive in the fall of 2018 on FX.