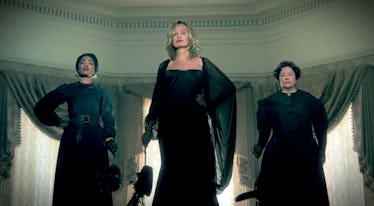 This 'AHS: Coven' Witch Just Confirmed She Is Not Returning For 'Apocalypse'
FX
American Horror Story is bringing back all of its witches for its Coven-crossover new season — well, almost all of them. Shortly after showrunner Ryan Murphy announced a whole host of Coven stars would be returning for American Horror Story: Apocalypse next month, one of the season's leads made it clear that she would be one of the few witches not flying back for Season 8. Angela Bassett is not in AHS: Apocalypse, she recently told Us Weekly, so sadly, the coven will be without their Voodoo Queen during the apocalypse.
Angela Bassett played Marie Laveau in American Horror Story: Coven, one of the most powerful witches to appear in the season with voodoo powers on par with Supreme witch Fiona Goode's magic. But although Apocalypse is bringing back a ton of the witches from Coven, Bassett said Marie Laveau will not be making an appearance in the new season:
I'm not in Horror Story. I'm not, not unless they get some brilliant idea. I love Coven though.
Speculation around Angela Bassett's return as Marie Laveau in the upcoming season began months ago when Ryan Murphy announced that Season 8 would be a crossover between Murder House and Coven. Soon afterwards, Emma Roberts revealed she would be reprising her Coven role as Madison Montgomery and Murphy stated that he would be inviting all of the witches from Coven to return for AHS: Apocalypse. And now we know that most of them have: Sarah Paulson will play the blinded Supreme Cordelia Goode (along with two other roles), Taissa Farmiga will play new witch Zoe Benson, Gabourey Sidibe will bring back human voodoo doll Queenie, and Stevie Nicks will also return as the even more witchy version of herself.
Ryan Murphy also revealed that Lily Rabe and Frances Conroy would return for the new season, both of whom played witches in Coven, but there has been no confirmation yet on if Rabe will be playing hippie witch Misty Day or Conroy will bring back the quirky but honest witch Myrtle Snow.
After that casting announcement, fans were left wondering about two notable omissions: Jamie Brewer and Angela Bassett. Brewer and Bassett played the only two Coven witches who have not yet been confirmed to be part of the Apocalypse cast: Brewer as the clairvoyant Nan and Bassett as the voodoo expert Marie Laveau.
Both Nan and Marie Laveau wound up dead at the end of Coven — Laveau drowned Nan as a sacrifice to Papa Legba, and then Delphine hacks Laveau apart — but AHS fans are well aware that the franchise is no stranger to finding ways to get around death. After all, Queenie also died at the end of Hotel, and she is confirmed to return, and we saw Cordelia bring Zoe back to life after she teleported herself onto a spike. But, now we have confirmation that Marie Laveau is not going to be concerning herself with the apocalypse.
American Horror Story: Apocalypse will premiere on FX on Sept. 12, 2018.