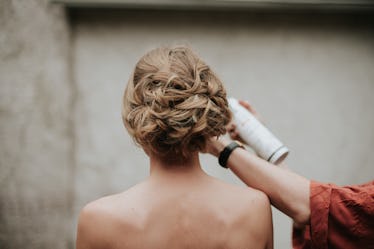 The Perfect Wedding Day Hairstyle For You, Based On Your Zodiac Sign
Daring Wanderer/Stocksy
Spring might be right around the corner, but I'm falling head over heels for wedding season. Whether you're in the wedding party, or just attending as a guest, there's truly nothing like celebrating love with your friends and family. As the bride, there's a lot of planning that goes into your big day, and you're lucky to have your besties and bridesmaids to help you out. You've spent so much time daydreaming about saying "yes" to your dress, and went to all your fitting appointments. Now it's just up to the stars to decide the best wedding hairstyle for you on your special day.
It's not the time to have a bad hair day, so you'll probably prep your look in advance to avoid any complications. You've totally stocked up on bobby pins, and got the hairspray with the strongest hold. You might have even danced around a bit in your room to see if your hairstyle will survive the reception and maybe even the after-party. Packing an extra hair tie or two might not be a bad idea just in case.
You're so excited to start forever with your significant other, and have already toasted to spending your lives together. The universe brought you to your bae, so you sort of trust its instincts and fashion sense this time around, too. The wedding hairstyle for you is as simple as being with your soulmate, with just a little help from the stars.