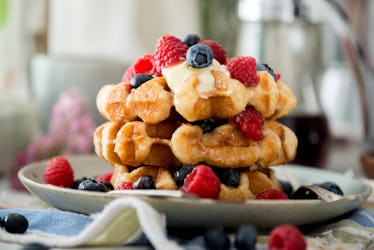 You'll Love This Waffle Dessert Bar Idea For Your Wedding Day A Waffle Lot
Every good fairy tale has a happy ending, and the best way to end your magical wedding day is with a sweet treat everyone will enjoy. Of course, there's the cake, but everyone also loves enjoying a dessert bar at the reception. From donuts to ice cream, the possibilities are truly endless. Unique dessert wedding bar ideas are the way to go to make sure your day is something everyone will remember.
A cake is great, and on your wedding you can have your cake, eat it, and then eat more at your dessert bar. Some even allow for the guests to make their treats unique to them with different topping options. It's a perfect choice for your wedding day, because you love your SO just as much as everyone will fall head over heels for a unique dessert bar.
Get caught up in these eight delicious and creative ideas, but don't let the choices overload you in a sugar coma. It's your day, after all, so if you can't choose just one, why not have a couple? That's what I would decide for my wedding day. A dessert bar is truly the sweetest way to celebrate your day, and any of these deserve an "I do."