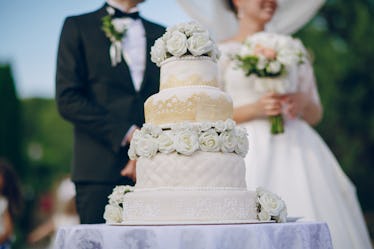 The Type Of Wedding Cake To Have On Your Special Day, Based On Your Zodiac Sign
Almost as sweet as the person you get to walk down the aisle to on your wedding day, is the cake you get to enjoy together after the ceremony. People put a lot of thought in their very first dessert they get to have together after tying the knot. The best type of wedding cake to have on your special day can be determined based on your zodiac sign, because those qualities don't vanish simply because you're getting hitched.
The characteristics associated with our zodiac signs stay with us all the time, even when we are trying to figure out what flavor we'd want most. Yeah, you're sort of deciding for everyone else, but it's your day, so "let them eat cake." You don't want to look back on old pictures and think about how much you totally didn't want your partner to feed you that first piece of a cake you really didn't like.
Going through so many mind-twisting debates about a cake seems a little extra, but it's your wedding day, girlfriend. You want everything to be close to perfect, and that means you have to tap into those characteristics of your zodiac. The stars are working in your favor, girl. Let them lead you in the right direction.