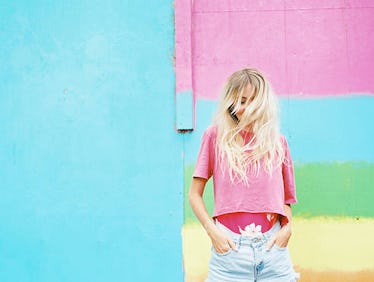 The Beach Playlist You & Your Friends Need For The Dreamiest Summer Yet
In your ideal world, you might walk around with your headphones in or a speaker on your shoulder all the time. You'd play your favorite songs, pretend you were in a movie, and dance with a hairbrush around your apartment. Nobody would look at you and think, "What are they doing?" because they'd be jamming, too. They'd give you an approving nod when you skipped ahead on your playlist to the newest single from the Jonas Brothers, or squealed with excitement over the colorful and fun-filled track, "You Need To Calm Down" by Taylor Swift. That's because they know those are some of the best beach songs for 2019, and want you to take your summer to the dreamiest level.
TBH, I couldn't agree with them more. I think you should explore the music that's out there and put it on repeat, even if you can't actually walk around with a boombox 24/7. I think you should make a playlist with the songs that make you say, "Oh, I like this a lot," and put it on when you and your besties are driving down to the coastline.
It's the best way to kickstart a day filled with sun, surf, and sprinkle-covered popsicles from the ice cream truck. It's also the best way to turn your mind to relaxation mode after laying on your towel and reminding yourself to take everything one sun beam at a time. So, add and stream these 16 songs. You seriously won't regret it.