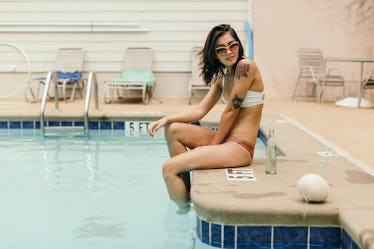 Snap These Clever Pool Pics This Summer For A Feed That Seriously Glows
To your loyal followers, you're the queen of all things related to social media. You're the person behind the most creative, adventurous, and inspiring account on their favorite app. You're the summer-loving soul who's always posting selfies that were taken at golden hour or from the boardwalk that stretches along the beach. Most importantly, you're the real and genuine person they trust, connect with, and learn from on the reg. With every like, comment, and tap of the "share" button, you teach your community how to live their #bestlife and stretch their imagination. Now it's time for me to return the favor for them, and give you some clever pool pics to take for Instagram that'll glow on your already gorgeous feed.
Does that sound like something you're interested in? I have lots of ideas bouncing around in my artsy brain, and I don't want them to go to waste. Because, although I love having photo shoots with my besties and spending my weekends with my digital camera, I don't always have the time and energy to recreate these images myself.
The empty spots in my planner get taken over by coffee dates, articles, and aimless scrolling on my phone. The "real world" reminds me that I need to clean my apartment or take a much-needed nap. TBH, that's OK. You can take these seven clever pool pics, and I'll toss you a double-tap from my side of the screen.