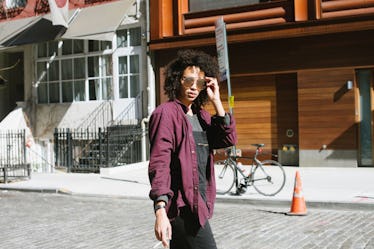 Millennials Have A Love-Hate Relationship Living In NYC In The Summer For These 5 Reasons
It's pretty accurate to say that you're excited for summer. You're ready to wear cute sandals and lightweight crewnecks instead of puffy winter coats and heavy boots. You're looking forward to being able to do more things outside, like eating breakfast on your balcony and having photo shoots in the botanical gardens. But, you also live in NYC, so you're not as excited as you could be. To you, summer means sticky subways, long lines at the ice cream trucks, and crowds of people in Central Park. You know that there are struggles millennials face living in NYC in the summer that can be so real. Read 'em and say, "Same."
First, though, let's mention a few reasons why living in the city is like a dream come true. For one, it quite literally was your dream growing up to be based in The Big Apple. You may have wanted to be an editor for a well-known magazine, or a buyer for a fashion house that you know and love. You wanted to wake up to the sounds of taxi cabs rushing by your window, and be walking distance from Times Square.
The younger version of you would be proud to see how far you've come, even if your relationship with NYC now is a love-hate kind of thing. They'd be excited to know that you've had some of the best pizza ever and ran into a celebrity once, and laugh about these five struggles you face in the summer.