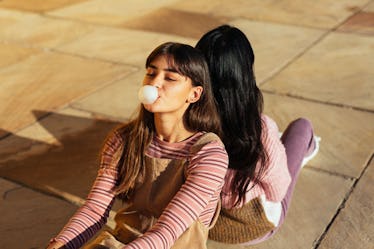 The 7 Friends You Should Have In Your 20s To Make This The Best Decade Of Your Life
I've always taken advice and notes about life from my favorite sitcoms. The characters from Parks and Recreation taught me how to navigate my professional life, menus full of breakfast food, and long-distance best friendships. The most iconic scenes from The Office have shown me that there is love and happiness wherever you are, and that some relationships are simply just meant to be. And that purple apartment from Friends? It will always stay in my mind as the definition of "home." What I learned the most, though, was this: The types of friends you should have in your 20s aren't the people who bring you down or don't support your dreams. No, they're the ones who are bound to make this the best decade of your life yet.
Imagine surrounding yourself with people like Leslie Knope, Jim Halpert, and Rachel Greene. Leslie would make sure that you started every morning with waffles and whipped cream, followed by a metaphor of your best qualities; Jim would make you laugh, and remind you to not take life too seriously; and Rachel would be dipping into your closet, looking for the sweater you just picked up from Bloomingdale's. (She's more like a sister than a best friend, huh?)
You would constantly feel inspired, loved, and lifted up — even when there's no seat at Central Perk, or your binders are an unorganized mess. Bring these kind of people — aka, these seven types of friends — into your life for real, OK?