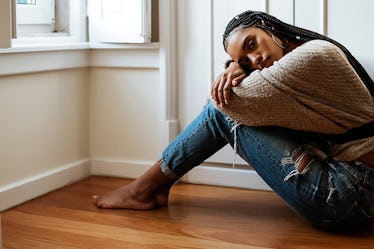 You're Not Alone If You Really Love Doing These 5 Things Alone
In this decade of my life, I've discovered one thing to be true: There's a huge difference between being alone and being lonely. You can be sitting at a counter in a coffee shop, with no one and nothing other than a cappuccino and a good book, and be totally content. You can spend an entire Saturday morning hanging out in bed with your phone notifications turned off, and be at peace. It's fun and peaceful doing certain things alone — things that you might not have ever realized you would enjoy doing solo. Now, you may have some things you like doing alone, too. Like me, you secretly love having time to yourself and making space in your schedule for these few things. Let's talk about that, shall we?
To some of your best friends, doing these things alone may seem intimidating or far-fetched. They can't imagine going solo to a restaurant and ordering a couple of rolls of sushi without a member of the crew by their side. They need someone to be around when they go grocery shopping on weeknights, and are watching their favorite television shows. (That can be understandable. You need someone to compare Game of Thrones theories with!)
But, you have a different outlook on being alone. You find it to be rejuvenating and much-needed sometimes. It allows you to refocus your energy and thoughts on yourself. And doing these five things just wouldn't be the same if you were with someone else.